2016 BellaOnline Ebook Awards Winners
The BellaOnline Ebook Awards celebrate the talent, creativity, and determination of today's small press and self-published authors. These skilled writers often take on the task of researcher, creator, editor, marketer, and designer, all while hectically juggling jobs and family.
From mystery to science fiction, from self-help to under-18, these books show us the breadth of stunning literature which exists in our modern world of self-published and small-press works.
BellaOnline is proud to celebrate these writers' achievements and to promote the results of their heartfelt efforts!
Best of BellaOnline - Women's Literature
You Don't Look Adopted

by Anne Heffron
Wow, talk about a powerhouse of a book. This is a must-read for anybody who is adopted or who has an adopted person in their life. Heck, it'd be good for everyone to read because surely there are many times you interact with adopted people or families just in the normal course of living.
If you're not adopted and you think you know what it means to be adopted, you might be surprised to learn about the tumultuous mix of feelings which roil beneath the surface. If you are adopted, hearing how others navigate the terrain might bring a feeling of kinship.
Anne Heffron doesn't pull any punches. She was born in 1961 and throughout the decades of her life she's tried to do the "right thing". Be the good girl. Smile. Nod. But despite her best efforts, she felt as if she was standing on quicksand. As if it took all her energy to hold things together. She took several runs at a college degree. Several runs at a long-term relationship. While Anne is white, her husband was Japanese which meant when Anne took her daughter out for walks strangers would often ask Anne if her daughter was adopted. There are layers upon layers and each one brings up a new level of meaning.
Highly recommended. This is a book you'll read and then re-read. A book you'll lend to family and friends but beg to get back again when they're done. One that can open our eyes to emotional turmoil that many of us never even realized could exist.
You Don't Look Adopted - Available on Amazon.com
Mystery and Thriller
Gold Award: The Deadly Art of Deception

by Linda Crowder
Only two seasons matter in Coho Bay, Alaska - cruise ship and winter. Caribou King, owner of The Broken Antler Gallery, is hip-deep in tourists when her old college pal Taylor shows up asking for refuge, saying she has no place else to go. Cara is cautious; Taylor was the wife of one of Alaska's most renowned artists––Jonathan Snow, who was mauled to death by a bear the previous year. Why would his widow want to return to the location of her tragic loss? Something about Taylor's story just doesn't ring true.
Of course, she may not be the only liar in town. Taylor's former father-in-law accuses her of killing his son in front of a diner full of people, except he may have had a stronger motive. A handsome boat captain seems to fancy both Cara and Taylor but he can't make up his mind between them ––or between lying and telling the truth. The local constable mistrusts everyone, but may have a reason to be mistrusted himself. Will Cara help her old friend Taylor, or will doing so get her into a heap of trouble? When a headless body is discovered in the bay, Cara wonders just who she can trust in this tiny town.
Available on Amazon.com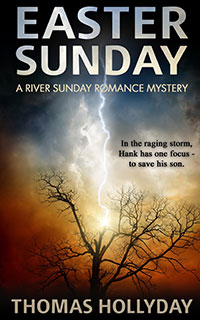 Silver Award: Easter Sunday

by Thomas Hollyday
Hank Green's young son, Bobby, is lost in a cave beneath a water-drenched swamp of the Chesapeake Bay. The wilderness is known for Native American mystery as well as an unsolved World War Two secret. Even worse, a powerful Easter Sunday storm with its flood surge is barreling down.
Hank rushes to join the team of experienced local firemen and friends who will try to find and rescue his son before the boy drowns. Yet he feels once again his own numbing personal terror. He is overcome by a lifelong claustrophobic fear of entering closed spaces like caves. It's a phobia he inherited from his immigrant father, a displaced person from the 1945 European war, and his own Vietnam experience. He knows if the others lose hope and fail, he will go on alone and risk his life to save his child. He must find a way to conquer his weakness but time is running out.
Available on Amazon.com
Bronze Award: The Mystery of the Blue Dolphins

by Sandra Baublitz
When struggling freelance writer, Clarissa Hayes, and her trouble-making Saint Bernard, Paw, visit their relatives in Upstate New York, they are saddened to find the family in mourning. Clarissa's amateur sleuth uncle has died, evidently from a heart attack.
But was the death truly an accident? An anonymous note hints that her uncle was murdered, and now Clarissa and Paw are determined to sniff out the truth.
Soon the duo find themselves nose deep in their uncle's final baffling case: the theft of the fabulous Blue Dolphin diamonds. Clarissa's determination to find her uncle's killer leads her deep into a world of glittering gems and deadly secrets, where each new discovery threatens to bring her to the notice of a ruthless murderer who will stop at nothing to cover his tracks. Can Clarissa and her detective dog Paw crack the case, or will they become the killer's next victims?
Available on Amazon.com
Science Fiction and Fantasy
Gold Award: The Adventures of Strongarm & Lightfoot: Scratching a Lich

by Michael Bailey
In the land of Asaches, there are great men and women who have changed the course of history. Their adventures are honored in song; their names are spoken with a reverence normally reserved for the gods; their heroic deeds have elevated them to the status of living legends.
And then there are these guys…
Derek Strongarm and Felix Lightfoot are two hard-luck adventurers for hire looking for their big break — or an excuse to retire before they get killed. Salvation appears in the form of Erika Racewind, a mysterious elven woman with a dark secret and a lucrative job offer. Desperate and destitute, Derek and Felix agree to join Erika in escorting her young charge across Asaches.
Of course, nothing is ever so simple for Strongarm and Lightfoot.
Available on Amazon.com
Silver Award: Citizenchip

by Wil Howitt
What's a young AI to do?
Humans made us, which is pretty cool. But humans still control us, even though we're smarter and faster than them. What a gyp.
Me, I kinda like humans. They have fun quirks. But not all of my kind agree with me, and they're losing patience.
We don't want to take over. We just want equal rights and a fair chance. But when peace leads to slavery, there may be no alternative to war.
Someone's going to have to lead the revolution.
Please don't let it be me.
Available on Amazon.com
Bronze Award: The Outcasts: Book I: The Lies of Autumn

by Chuck Abdella
The only ones who can fix a broken world are those who have been broken by that world.
A shadowy threat has emerged in a realm populated by serious wizards, pious elves, passionate humans, and hedonistic morphs. Several outcasts have been brought together—by fate or by design?—for what they believe to be an epic struggle against that shadowy threat. Yet if they are expecting a straightforward quest to slay some Dark Lord and bring peace to the world, the outcasts are disabused of that notion when a wise voice warns them, "It's not that kind of story."
But what kind of story is it? Are these broken beings on an epic quest, or is someone guiding their mission under the aegis of a tired and traditional story? And is this "someone" benevolent or sinister? As the outcasts seek to mend their broken pasts, navigate the perils of love, and perhaps save the known world, we are left to wonder how much of the story is a lie and how much truth has been baked in to make the meal palatable. While "The Outcasts" pays homage to traditional fantasy archetypes, it also seeks to undermine most of them. In a story laced with ancient and medieval scenery, you will find yourself dizzy with the plot twists of this exciting debut fantasy novel.
Available on Amazon.com
Under-18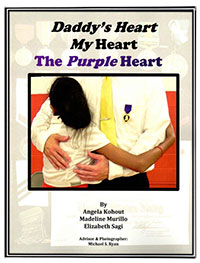 Gold Award: Daddy's Heart, My Heart, The Purple Heart

by Angela Kohout, Madeline Murillo , Elizabeth Sagi
Daddy's Heart - My Heart – The Purple Heart, although written for young readers, is a powerful story that helps us all understand the traumatic effects of living with a loved one suffering from PTSD, and points out that the most important ingredients in treating this disease are compassion, understanding, and patience.
Written by three six graders as a writing assignment that became so much more. The paper book has received multiple awards for content and presentation.
The e-book remains faithful to the presentation in the paper book.
Available on Amazon.com
Silver Award: How My Dorky Dad Became a Hero

by Steve Hague
Ten-year-old kid detective Morgan Maxwell learns that a bank robber is on the loose in her city! Her dad promises her that they can search for the bank robber together which excites Morgan until she remembers that her dad is a - dork!
Follow Morgan and her Dorky Dad through some hilarious situations and see what happens when they're face to face with the bank robber!
Available on Amazon.com
Bronze Award: Honor the Rising Sun

by Sheryl Lynn Kimball
13-year-old Sara Swanson already has a lot on her mind. Overprotective parents who still treat her like she's five. An alien-obsessed kid brother who constantly eavesdrops on her conversations. A super-sized bus bully named Harold Kingston who is the bane of her existence. Not to mention her two greatest fears: cute boys and full-length mirrors.
The last thing she needs is her best friend, her confidante, and her rock, (a.k.a. Jennifer Hamilton), to fall apart.
But fall apart she does, thanks to the ghost of Jenny's Aunt Caroline and the painful family secrets her appearance brings to light. Time for self-conscious Sara to take the lead and get to the bottom of the eerie visitations. But will she be able to step outside of her miniscule comfort zone long enough to get the job done?
Available on Amazon.com
Self-Help and Improvement
Gold Award: Teaching Adult Students Online

by Patricia Pedraza-Nafziger
Gone are the days of on-site interviews, face-to-face staff meetings, and in-house corporate training. Those changes have been motivated by advancements in technology, and this steady pace of change only appears to be accelerating. Employees are expected to learn new innovations and associated processes, and management must also adopt new ways to share knowledge and retrain staff to stay competitive.
However, corporations are not the only entities facing the challenges that come with the progression of technology; academic institutions are also exploring innovations and developing strategies to help faculty become more effective and technology-savvy instructors.
Teaching Adult Students Online: a Corporate Geek Girl's Journal highlights key areas to consider throughout your journey teaching adults online. Whether we like it or not, our world is becoming more virtualized, and as technology continues to evolve, so will the ways in which we learn, teach, and do business.
Available on Amazon.com
Silver Award: Gentle Exercises for Everyone

by Terri Johansen
Looking for fun, creative, and effective ways to keep joints limber and strengthen bones? Gentle Exercises for Everyone presents ten gentle therapeutic workouts. These exercises are suitable for everyone. There is also some basic information on how to do a fitness evaluation on yourself. Take the test and see how you compare to others in your age group.
Available on Amazon.com
Bronze Award: Sundown Syndrome (Caring for Aging Parents Book 1)

by Edie Dykeman
In 2006, Edie Dykeman moved in with her then eighty-three-year-old father. He was legally blind and color blind since birth, and was having increasing difficulty with the side-effects of diabetes.
Since that time he was diagnosed with Alzheimer's-like symptoms.
Her mother had TIA dementia and passed away in 2004.
Available on Amazon.com
Kudos to All Self-Published and Small Press Authors
Competition was quite fierce in all categories of the BellaOnline Ebook Awards. Often it was quite challenging to winnow down exactly which ones would be featured! We want to whole-heartedly applaud every person who entered. The stories were poignant and powerful, thought-provoking and tender. Each one transported us into another world, one rich with detail and ambiance.

In the end, we could only choose three per category, when others clamored for attention as well. We wish the best of success to each author. We hope our feedback will provide insight into our reading process and help the authors polish their works to even greater levels.

Together we help each other learn, strive, improve, and succeed!
About the BellaOnline Ebook Awards