Oncidium cheirophorum, a Small Dancing Lady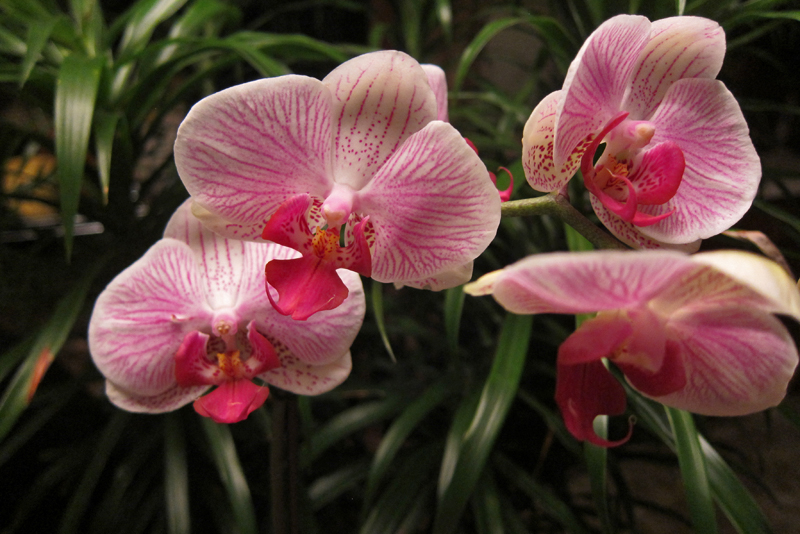 Guest columnist
Terri Lewin
is a member of the American Orchid Society and the Niagara Frontier Orchid Society. She teaches horticulture at Niagara County Community College and is the curator of the orchid collection at the Buffalo and Erie County Botanical Gardens. She grows under lights at home and has a personal collection approximately 125 plants. This is a continuing series on miniature orchids she grows.
Oncidium cheirophorum
is the perfect orchid for people who love the 'dancing ladies', but do not have room for larger Oncidiums. Nicknamed the "Hand carrying Orchid" and "Colombian Buttercup"; this small plant puts on a show of bright yellow fragrant flowers in the fall.
Oncidium cheirophorum has small roundish pseudobulbs with a single leaf at the top. It is easily grown under medium light conditions, but will like to be acclimated to either a South or West window, or stand it on a pot to get it closer to your fluorescent bulbs. Those of you growing under high intensity lights have enough light, but need to ensure that the smaller plants get enough humidity and do not get too warm. This plant likes to be grown under intermediate to cool temperature conditions. Flowers are formed on 12 inch inflorescences.
Oncidium cheirophorum is crossed with O. ornithorynchum to form a very popular cross, Oncidium Twinkle.
Fragrance Fantasy
is a good clone with off white flowers and a powerful fragrance, sometimes emitting two spikes from each bulb. There is also a brand new clone, Oncidium Twinkle 'Sharry Baby' which looks exactly like Onc. Sharry Baby 'Sweet Fragrance', except it is only 6" tall. (
Oncidium ornithorynchum
, which is another worthwhile mini, is a grandparent of Onc. Sharry Baby, one of the best selling orchid grexes of all time.) These plants grow rapidly and robustly, producing a specimen plant in relatively little time.
You Should Also Read:
Miniature Orchid Series
Equitant Oncidiums or Tolumnia
Neofinetia falcata


Editor's Picks Articles
Top Ten Articles
Previous Features
Site Map





Content copyright © 2021 by Terri Lewin. All rights reserved.
This content was written by Terri Lewin. If you wish to use this content in any manner, you need written permission. Contact Anu Dharmani for details.