USDA Carbohydrates vs Low Carb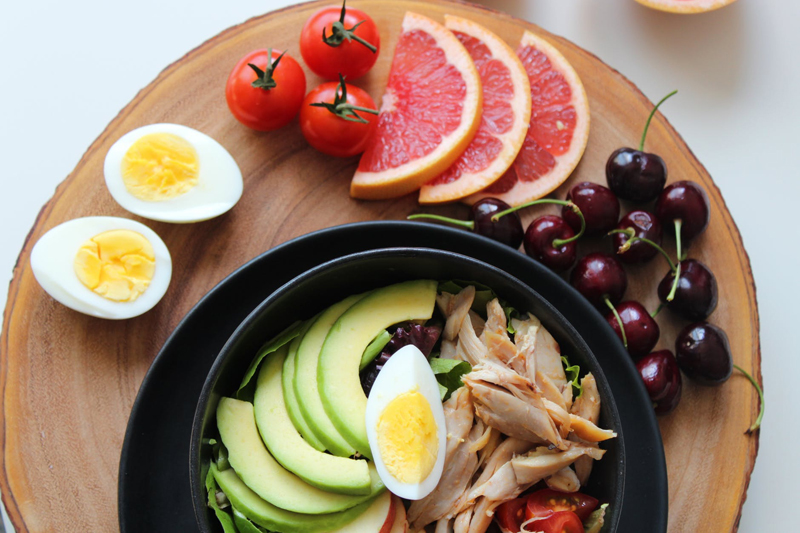 Low carb diets tend to keep you under 80g of carbs a day. The USDA websites recommend you get 45% of your calories from carbs. How do these compare?
First, the recommended total calories per day for a woman are 2,400. In 1989, the USDA recommended >50% of carbs for your calories. In 2002, then lowered this to 45% and insisted at least 25g of this was fiber, and that under 25% of this be from added sugars.
It's very scary to me that the US diet is so pitiful that the government is pleading with people to drop their added sugar consumption to BELOW a quarter of their daily diet. Just how much sugar are people eating?
It's important to realize that the FDA considers carbs to be "anything that is not fat, protein, moisture or ash". So really, a carb could be a lot of things - including completely non-digestible things. That's why low carb diets actually care about NET carbs (i.e. carbs you digest) instead of trying to count a category with any random item in it.
That being said, let's give them the benefit of the doubt and consider that they actually MEAN "carbs" (meaning sugars, starches, fibers and sugar alcohols). If we say 45% of 2,400 - that is 1,080 calories. At 4 calories per gram of carbs, that is 270g of carbs. Every day. How could you possibly eat 270g of carbs a day? Let's give it a try. Note that I'm including fiber in these main carb counts - normally we low carbers exclude fiber.
bowl of oatmeal: 27g (23g net)
strawberries: 1.8g
whole wheat bread (2 slices): 30g (24g net)
tuna fish: 0g
broccoli: 1.7g
grilled chicken: 0g
dark roll: 15g
glass wine: 1g
I even tried to make this a "carby" day by including the oatmeal and the bread. Even so, we get to 76.5g of carbs for the day. Even if you have snacks like apples and celery, how can you possibly get to 270g of carbs for a daily intake, without going into really nasty food?
I have diaries from my great-grandmother when she was a young mother in the 1930s. She was extremely healthy and raised a family in Tennessee. They only had soda and chocolate on special occasions. Their primary meals were much like what I listed above, although they didn't drink wine. Even if you add in glasses at milk at about 11g per glass - how many can you drink??
The basic fact of healthy living is that you should avoid processed food, eat natural food. You should eat fresh veggies, and make sure that everything you eat is "giving you something" nutrient-related. You shouldn't eat food that has calories but no nutrients. You easily get enough calories during the day!
In essence, the gross division of your calorie intake into carbs, fats, and protein is supposed to break out your intake to get you enough essential oils (fats), amino acids (proteins), and nutrients / fiber (carbs). So really, the point of the carb count is not of course to eat a ton of sugar. The point is to get proportionally ample NUTRIENTS in to you. If you get those 270g of carbs by drinking lots of sugar water, you have avoided the whole purpose of the value. If all you eat for carbs are French fries and white bread, you have equally avoided the point. You are supposed to be eating a balance of nutrient-rich carbs - whole grain bread, broccoli, etc.
In essence you should be looking at the wealth of things that fall into the carb category, sorting out which have the most nutrients, and eating proportional amounts of those. But to force yourself to eat EXTRA carbs - including eating junk carbs - just to meet an artificial line is nonsensical.
Finally I want to comment that even their starting figures are not healthy. They want me to take in 2,400 calories a day. Actual medical calculators that take into account my weight, height, activity etc. say I should only take in 1,500 calories a day. If I followed the USDA requirements in ANY way I would be gaining weight every week.
Lisa Shea's Library of Low Carb Books
You Should Also Read:
The Myth of 270g Carb Days


Related Articles
Editor's Picks Articles
Top Ten Articles
Previous Features
Site Map



Follow @LisaLowCarb
Tweet





Content copyright © 2018 by Lisa Shea. All rights reserved.
This content was written by Lisa Shea. If you wish to use this content in any manner, you need written permission. Contact Lisa Shea for details.