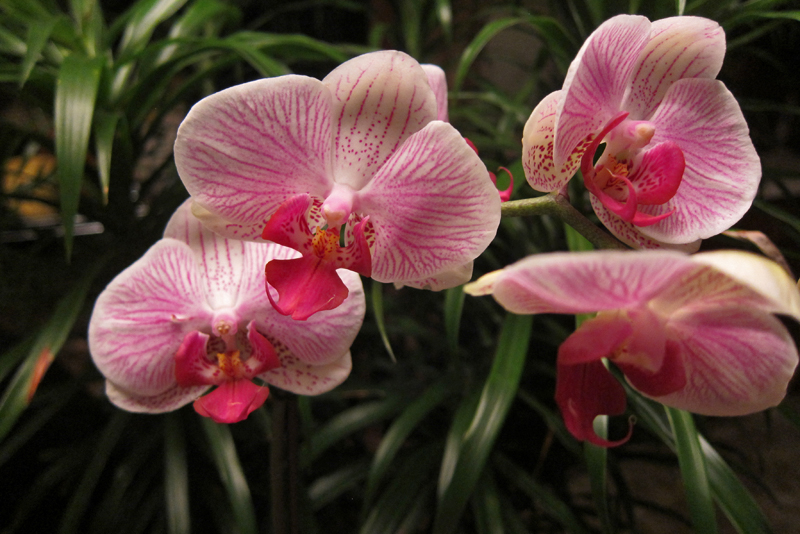 After last week's article one of your fellow readers, Laura Poore, sent in this article about her favorite Paph,
Paphiopedilum liemianum
. You can also see photographs of her flowering plants at
Orchid Spot
.
I would like to tell you about one Paphiopedilum that has caught my eye… The tiny colorful flowers just melted my heart. Paphiopedilum liemianum is in the Subgenus Cochlopetalum. The characteristic for which this subgenus is named is the corkscrew twist of the petals; which is reminiscent of the spiraled shells of certain snails
These Paphs bloom continually over a period of months or years. The open flower drops as a new bud begins to open so that two simultaneous flowers are present only briefly. Individual flowers are quite long-lasting, and up to 15 to 20 flowers may be borne so that a single inflorescence may continue to flower for more than a year. Flowers may occur at any time of year, but are more likely in summer.
In its habitat the Paphiopedilum liemianum clings to the roots of trees perched upon steep ravines in the limestone hills. It receives dappled shade and ample moisture. Located just north of the equator, there is little year-round variation in day length.
Paphiopedilum liemianum will grow just fine sitting in your brightest window, no direct sun… just bright light. Or, if you grow under lights it will do just fine in that environment too.
Paphs in general are not heavy feeders, so I fertilize ¼ teaspoon to a gallon of water for 3 waterings and run clear water through the pots on the fourth watering.
I grow my Paphs in small bark mix, which helps to hold water longer. I use clay pots for all of my Paphs, but that does not say you must grow in clay pots too. Use whatever kind of pots you are comfortable with.
Repotting should be done each year or when the mix is breaking down. Like most orchids Paphs like small pots, so a pot just 1 or 2 inches larger than the previous one will allow room for 1 to 3 new growths to mature for each existing growth. Be sure when you set your Paphs into the new pot that you take care not to plant too deep, just repot the plant at the same level as they were. The base of the fan or leaves should set just at the surface of the medium. Be sure to wet the mix thoroughly before you begin the repotting process as roots could be dried and killed if placed in a bone-dry medium.
You Should Also Read:
Paphiopedilum or Slipper Orchids


Editor's Picks Articles
Top Ten Articles
Previous Features
Site Map





Content copyright © 2021 by Susan Taylor. All rights reserved.
This content was written by Susan Taylor. If you wish to use this content in any manner, you need written permission. Contact Anu Dharmani for details.