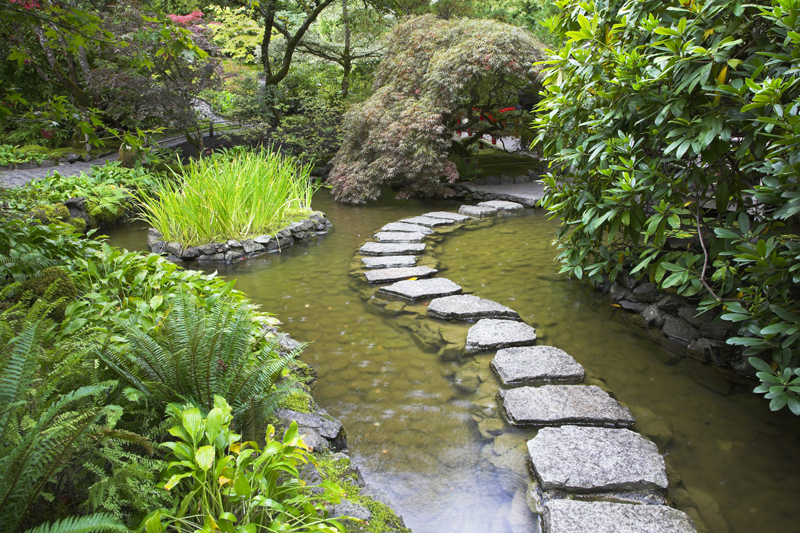 Among the lasting landscaping trends of the last several years is the de-emphasis on lawns. Instead, some of the areas normally planted in turfgrass are now used for other plants, such as ornamental grasses and ground covers.

A broad definition of ground covers are those considered to be traditional ground covers as well as non-traditional ones, such as herbs and flowering perennials.

In warm areas of the country, ground covers need to be hardy enough should winters become unpredictably harsh. At the same time, plants need to be tolerant of summer heat and humidity, as this is likely to affect plants just as much as the cold. When grown in the shade, drought-tolerant ground covers are recommended, for often sufficient rain may not always reach the plants growing under trees and shrubs. Or nearby trees may utilize all the water before the small, low-growing plants under the trees get any.

For full sun or partial shade in frost-free regions, the cast-iron plant or aspidistra is a lovely evergreen ground cover. This foliage plant is perfectly happy under trees, roof overhangs, and other low-light areas. Because it could be killed back if the winter becomes exceptionally cold, I recommend giving it a sheltered spot for extra protection, for example sites with warm southern exposures. If frozen back, it will produce new shoots when spring arrives.

A very low-maintenance ground cover, its foliage forms tight masses, thus discouraging germination and spread of weeds. The dark green, stiff evergreen foliage is swordlike. Of the various cultivars, the Variegata is one with alternating green and white stripes of varying widths. It is very lovely, but has a less vigorous growth habit than the one with plain leaves. Avoid fertilizing heavily because in heavy over-rich soils, the leaves will be entirely green rather than variegated. Milky Way has subtle white spots on the leaves.

Though not widely used, the Japanese ardisia or marlberry is an excellent evergreen ground cover. Only one-half to a foot in height, this shade loving plant thrives in fertile, well-drained soil. Relatively trouble-free, ardisia has no serious insect or disease problems. Adding year-round interest to the garden, ardisia has white summer blooms and glossy attractive foliage year-round. In winter, it displays bright red, shiny berries. Brookside Gardens #803 is especially hardy, tolerating temperatures as low as 0. Fahrenheit.

For really well-drained soils in full sun sites, herbs can make excellent ground covers. Rosemary, a low-growing shrubby evergreen, is particularly nice. Both the gray-green leaves and stems have a long-lasting, pine-like fragrance. Blooming on upright spikes, the violet-blue or white flowers appear in early spring. I would recommend Salem, a North Carolina selection with a tidy upright growth habit. It is somewhat hardier than most rosemaries.

Lavender cotton or santolina is another herb well-suited to sunny, dry spots. Very neat ground covers, they vary in height, depending on the cultivar, from about six inches to a foot or more. Their clean, fine, needle-like foliage is aromatic. Lavender cotton does best in a well-drained, poor, sandy soil. Rich soils and high fertilizer applications can cause the plant to be sickly. Not grown for its blossoms, lavender cotton nonetheless does bloom in late spring to early summer, producing small yellow or creamy blossoms.

In certain situations, I've seen ornamental grasses used as ground covers. Blue fescue is one of the most popularly used for this purpose.

Thunusual ground covers will serve valuable roles in the home landscape.



Related Articles
Editor's Picks Articles
Top Ten Articles
Previous Features
Site Map





Content copyright © 2018 by Connie Krochmal. All rights reserved.
This content was written by Connie Krochmal. If you wish to use this content in any manner, you need written permission. Contact Connie Krochmal for details.