Now go to elevator. Set to gas canister Go in and down. Get message - 'intruder - American commando' - checkpoint.
Gas guys in front of you - shoot guy on catwalk. Apply medkits and get frag grenade. Throw at next guy that comes for you. One guy left up on stairs. Medkit on one guy, frag grenade on another, data stick on third. - 'suspicious of Cristavi'. Hide all the guard bodies.
Go down stairs. 'being betrayed'. Run down through boxes to computer - use it - data stick - message to Nikoladze from Feirong.
Grab Nikoladze and put him at safe. It opens - guards show up. Listen to the exchange. Stay still. They give you a countdown - checkpoint. Your guys say they'll black things out.
Hit B as you hide to the right, so you duck. It's on #2. They have infrared too. Grenade and shoot the four guys. Datastick on one - final go on operation, kill Nikoladze's guards. Now one remaining bad guy in doorway to far left. Go up stone ramps. "don't let Nikoladze get away". Now in library - see video of Nikoladze walking across upper area. Go across to open doorway - checkpoint.
Now in open area with archways. Go across wall to right and get into dark arch area. Gas the guard there. Now 'american is vital' alert. Go up pipe on right to window ledge. Climb in to arched next level. Checkpoint.
Disappointing ending for Nikoladze - you just snipe him through the window. "The Osprey's waiting". Shoot the guard in front of you. Go to end of hall - checkpoint.
Go through door and towards dining room area. There's a few guards in there. Shoot one then run back into the kitchen - get up on the shelving to the left (when facing the dining room). One guard has a medkit. "must be captured or killed."
Go out other end of dining room. Get all 4 guys into that hall area then run out to front door - you just reach it (don't even open it) and it shows a video of you running out.
Now the game ends - found ark short distance from DC, show videos of them neutralizing it, then video of you sitting with your daughter while you laugh and watch the president. Then the phone rings ... "Hello Lambert."
Sort of depressing ending.

Take the Splinter Cell Quiz
Splinter Cell Review and Screenshots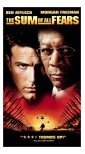 Tom Clancy's Sum of All Fears

Splinter Cell Walkthrough, Tips and Techniques