"It's a bright cold day in April" You've found your contact. He tells you really quickly about the Chinese general that's using the Ambassador's office and the back service entrance. Gate - livery truck, only one chance to get through. Chinese general brought whole batallion.
over to sign, up on yellow metal walkway. Rappel down from pipe. You're on other side of wall from car now. Loading. Save.
Go slowly - guys with flashlights on helmets. Hit one. Datastick - thanks for etra rations. Get up onto red structure. Be warned, the guards go up there too! Climb up ladder to window and go in. Sneak along room to end - guard is there. Checkpoint.
soldier. data stick says 10-80 commandos attacked. He he he. Go out on baldony and shoot out light. Jump up on box and slide across rope to other side of street. Go forward to next awning, then jump across. Go down side alley. Get warning - any alarm and mission is over. Go up ladder. Metal balcony - go slowly. Ammo on ledge. around to another ladder, shoot light out, go down ladder.
data stick on guy - to Nonong - escape plan is adequate. Get over to gate ahead and left without being seen. Go in and right past the truck, tounder the big truck. Wait there until it's safe. sneak to far right under that truck.
If you're lucky, the incoming truck will run the dog over. Sneak over to the bridge area where the water enters the map. Go along the road and checkpoint.
Go to where you can see the foo dogs. listen in with mike to lit up window above foo dogs. Kong Feirong, the general, is talking on the phone. He says he's going to car to talk to the bad guy. Now you see him going out to his limo and driving out the gates to the right. Go and listen while he's stopped at the gates. You learn he's going to execute someone.
If you "mission fail" at this point even though you listen to the whole conversation it's probably because you didn't hide a body properly before now. Try again being VERY careful to hide all the bodies, so that they aren't discovered while you're hanging out listening in on this conversation.
Sneak over to the far wall, behind the guard station. The back corner is VERY dark if you're spotted. Head up the side wall. There's a pipe up here, and the barbed wire is pulled aside. Wait until the guards are clear and shimmy up the pipe and go over the wall. The van is right there, you climb in and go!
You're told the captured american soldiers will be executed at mouke tsoe bo meats in a few hours.

Take the Splinter Cell Quiz
Splinter Cell Review and Screenshots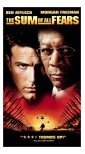 Tom Clancy's Sum of All Fears

Splinter Cell Walkthrough, Tips and Techniques