Beaded Tatting by Bernadette Baldelli
On the cover of Bernadette Baldelli's new book, "Frivolité avec des perles" is a multi strand necklace dripping with beads and tatted in subtle autumn colors. Her website notes that she received second prize at SEMA 2009 Nièvre department for this piece called, Silk Tatting. It is simply and beautifully constructed.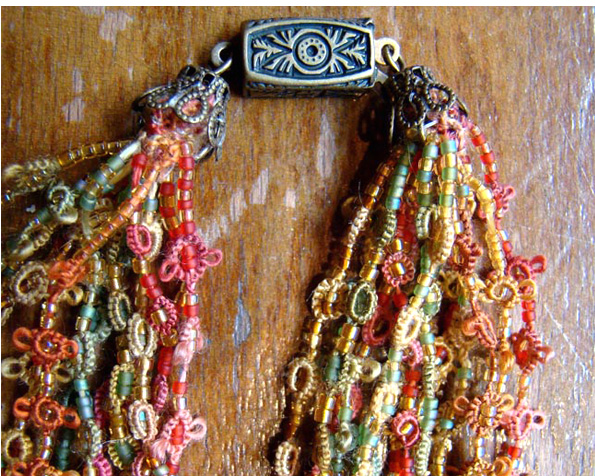 A second study of the cover shows that this new book is more advanced in nature than her 1999 book on tatting. Also featured is a purse with a covering of tatting, beading and needle woven lace touches. Coordinating pieces are shown for a ring, earrings and brooch. Altogether there are 22 projects included in this 2014 book, 8.5" x 11", with 72 pages photographed in full color including the diagrams.


And, although the text is all in French, the enlarged photos of the tatting and diagrams which show the line of progression and the double stitch count make these patterns easily tattable.(Hmm, is tattable a real word? Let's vote on it.)


A six-page tutorial on the basics of shuttle tatting begins the book. Included are sections on finishing off the ends, creating the look of split ring tatting done with only one shuttle and enough needle weaving to accomplish the embellishments on the purse. All patterns may be tatted with one shuttle/needle.


Bernadette's earlier tatting book featured small items, miniatures, designs with holiday themes. It, too, had a basic beginning tatting section but many (if not all) of the diagrams had no double stitch count on them.

Note: I acquired both these books for my personal tatting reference library, G. Seitz.
Here's the latest article from the Tatting site at BellaOnline.com.

Beaded Tatting by Bernadette Baldelli Bernadette Baldelli's new book, "Frivolité avec des perles." Altho written in French, the photos and diagrams with the double stitch count make these pattern available to all of us.

http://www.bellaonline.com/articles/art301543.asp

Please visit tatting.bellaonline.com for even more great content about Tatting. To participate in free, fun online discussions, this site has a community forum all about Tatting located here -

http://forums.bellaonline.com/ubbthreads.php?ubb=postlist&Board=39

I hope to hear from you sometime soon, either in the forum or in response to this email message. I thrive on your feedback! Have fun passing this message along to family and friends, because we all love free knowledge!

Georgia Seitz, Tatting Editor http://tatting.bellaonline.com One of hundreds of sites at BellaOnline.com