On an idyllic summer evening, satisfying hunger pangs while strolling down a city street, at a snow covered
Weihnachtsmarkt
, or during any month and on any occasion,
Currywurst
has had cult status as a favorite German fast food snack for more than 60 years. Over 800,000,000 are eaten each year and an estimated 70,000,000 are consumed in what, according to
a sometimes disputed Currywurst legend, is its birthplace, Germany's capital Berlin.
Herta Heuwer
was a shop assistant at the 'KaDeWe' Berlin's biggest store, and one of the many
Truemmerfrauen
, 'rubble' women, who throughout Germany were using little more than basic tools and their hands to clear away wreckage left behind by war.
In her Charlottenburg kitchen Herta took typically British cookery ingredients obtained from the armed services NAAFI, (Navy, Army and Air Force Institutes and Britain's equivalent of the PX, BX and NEX), to create a recipe for the first Currywurst. Charlottenburg was at the time, 1949, a part of Berlin's post war British military sector.
Through trial and error she turned Worcestershire sauce, spices and ketchup into a mixture which, when blended with cooked tomatoes and onions, became a warm sauce used to cover deep fried sliced Knackwurst (Knockwurst). A touch of the colorful and exotic that combined with the familiar, and brightened up a life where all meals were influenced by post war rationing.
Herta bought a stall on the corner of Charlottenburg's Kant and Kaiser-Friedrich-Strasse, a commemorative plaque marks the spot, and offered a
currywurst
for 60 pfennig, in 1949 about 50 US cents and 6 UK pennies, to everyone from construction workers rebuilding the devastated city to passersby, and before long to celebrities of one type or another,
Currywurst became so popular that soon she was serving 10,000 a week and had to employ staff to help oversee the operation. While although she had patented her recipe, keeping the sauce's twelve spices and ingredients a
secret which she took with her when she died in 1999, thousands of
copy cat
Currywurst providers appeared throughout Germany.
A German snack food had become part of its culture.
The iconic currywurst appears and is used as a prop in TV programs, Herbert Groenemeyer a popular German actor and singer had
a huge 'Top Ten' hit
singing in praise of a currywurst, while many books and films, covering an entire range from cold war spy stories to present day romances, somehow manage to include one, or more, in the proceedings.
And being photographed holding or eating a currywurst is one aim almost everyone from tourists and film stars to US Presidents and German chancellors seem to share in common.
There is even a Disneyesque Currywurst Museum alongside the monument to
Checkpoint Charlie
.
For non-German nationals in the days of a
Berlin Wall
, and divided Germany, Checkpoint Charlie was the border crossing point into an East Berlin where 'currywurst' were also enjoyed.
Although, unlike in the West, in the East the sausage had no casing, so it was a
Currywurst ohne Darm
as for whatever reason at the time it seems there were none available on that side of the wall. And this remains the most popular way of serving them there.
Currywurst can now be found everywhere. As take out food served on traditional recyclable paper dishes from 'Currywurstbude', currywurst stands, or 'Schnellimbisse', fast food stands, offered in restaurants with alternative vegetarian sausages or featured on children's menus, and costing about Euro 3.50.
Five star hotels with views of Berlin's Brandenburg Gate and up market bars offer them priced at around Euro 25 each, or served together with a glass of champagne for Euro 45.
It is unlikely that any two Germans will agree as to what is a perfect 'Currywurst', and different regions also have their own idea of how it is served, although not many would think of
"Currywurst und Schampus"
as an ideal combination.
Nevertheless fries or bread, mustard, onions, very spicy, not so spicy, Bratwurst, a mixture of pork and beef, or Knackwurst, similar to a short fat frankfurter, are just a few of the alternatives, and for many Germans a world without Currywurst is unthinkable whichever way it is served. However there is one thing most agree upon, although the recipe can have ketchup as a base there should be so many other ingredients that this is unrecognizable, because an authentic Currywurst is never served with ready made ketchup.
A genuine Herta Heuwer Currywurst is something I never had the opportunity to try, and even her husband had no idea as to the ingredients in the sauce, but a friend in Berlin who enjoyed them many times gave me this curry sauce recipe as being the taste that is the nearest to the original of their memories.
THE RECIPE
-
A Currywurst Sauce which can be used for all types of dishes
2 large red or yellow onions chopped very finely
2 400 gr cans tomatoes with juice
250 ml ketchup
1 tablespoon mustard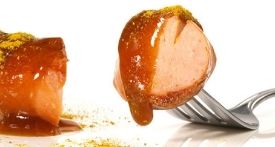 2 tablespoons sugar
4 tablespoons Worcestershire sauce
1 tablespoon paprika powder
2 tablespoons curry powder
1/2 teaspoon chili powder
salt and pepper to taste
1 tablespoon oil
Warm oil over medium heat
Put onions in pan and cook over medium heat until soft, 8 to 10 minutes
Add curry powder, paprika powder, chilli powder and continue to cook while stirring, for one to two minutes
Add tomatoes and juice to pan and crush thoroughly, stir through
Stirring add ketchup, Worcestershire sauce, sugar, mustard, salt and pepper to taste
Bring to boil and lower to simmer, stirring occasionally until thickened. 20-25 minutes.
Puree mixture in blender and strain through a sieve.
Makes at least 500 ml of sauce.
Grill sausages, which can also be the vegetarian tofu based variety, slice and cover with warm sauce.
To the sauce covered sausage add additional Paprika powder, Salt, Pepper, Chili Powder, Curry Powder, Mustard or finely chopped onion to taste.
Serve with fries, and if serving in a bun put in place after slicing.
And G
uten
A
ppetit
!
For topics in the news

And you can follow German Culture on Facebook
Illustrations: Plakette Herta Heuwer, on the corner of Kant and Kaiser Friedrich Strass in Berlin Charlottenurg, where Herta Heuwer is said to have invented the Currywurst, photographer Malud, enhanced by Rainer Zenz - via de.Wikipedia, Currywurst Berlin style on paper plate and with plastic fork, via Erasmus Blog - Curry sauce with curry powder courtesy Mettsalat.de
German Style Nurnberger Original Bratwurst or Curry Bratwurst from Wisconsin, and friends who have tried them said it was like being back home.