Originally it was a festival leading up to 40 days of strict fasting for
Lent
, but despite the fact that few in Germany now "Fast", the tradition of eating calorie busting food during
Karneval
celebrations, and lots of it, has gone no where.
Reibekuchen
, potato pancakes,
Kartoffelsalat
, potato salad, Frikadellen, meat balls, Sauerbraten, pot roast, Chili con Carne, Sausages, Thick soups, Ham and cheese pretzels, with
Gluehwein or Beer to help it all go down, are just a small selection of what is offered on stands and cafes along Carnival routes.
But the real favorite has to be
Faschingskrapfen
, or Berliner, Pfannkuchen, Fastnachtskrapfen, depending on your region, but Carnival Jelly Donuts that are to be found everywhere.
Originally filled with jam or fruit compote and with a shaking of confectioners sugar added after baking, now they come with an ever expanding variety of fillings, toppings and decorations.
Just as "Carnival" or "Mardi Gras" is known by different names depending on the region of Germany it is being held, so are the "jelly filled donuts" that are staple Karneval, and New Years Eve, treats in all the areas celebrating the festival. As well as many that don't.
The recipes are the same but the names range from
Krapfen
in Bavaria,
Kraeppel
in central Germany,
Fastnachtskeuchelchen
,
"little carnival cakes"
, in some of the South Western region,
Berliner
in North Germany and other South Western areas…………but never
"Berliner"
in Germany's capital Berlin, which doesn't really celebrate Carnival anyway as in that city donuts are known as Pfannkuchen.
Any Jelly Doughnut recipe will work, but this recipe, and the fillings, come from Baden Wuerttemberg, in South West Germany, and it is also used for the
New Year's Celebration
"Lucky Jelly Donut".
Faschingskrapfen, German Carnival Jelly Doughnut, Recipe
- Makes about 20
Ingredients: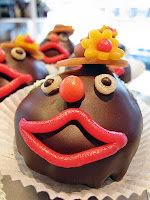 3-4 cups all purpose flour
1/4 cup fine sugar
1 1/2 teaspoon salt
1 1/4 cups warm water (105 to 115 deg F)
1 pkt active dry yeast
2 beaten egg yolks
1/4 cup softened butter or margarine
finely grated rind of 1 untreated lemon
For the fillings:
1/4 cup any flavor of your favorite jam or jelly.....fruit preserves such as plum, apricot or apple, and this can be 'as is' or mixed with a little rum, brandy, or schnapps.....cooked apples flavored with nutmeg or ginger.....flavored whipped cream...chocolate or vanilla pudding.....eggnog.....strawberry jam and vodka...a crystallized plum.....pineapple cream with coconut and rum.....Tiramisu.....caramel sauce.....whatever you choose really as long as it is of "jelly" consistency.
Method:
Add yeast and pinch sugar to 1/4 cup warm water, allow to stand 2 to 3 minutes, stir
Mix 2 cups flour with sugar and salt.
Make a hollow in the center of the mix and add yeast water combination.
Allow to rise 20 minutes.
Add beaten egg yolks and the remaining water and butter.
Beat until combined.
Add lemon rind and remaining flour, mix until it is a soft dough.
Knead until the dough is smooth and elastic, takes between 5 to 10 minutes,.
Place in a lightly greased bowl in a warm place, and cover, allowing to rise until doubled in bulk, about 1 1/2 hours.
Punch dough down.
Roll dough out on a lightly floured board, until it is 1/4 inch thick, then using glass or cutter cut into 2 inch rounds.
One half of the rounds have one teaspoon of filling placed in centre, the edges are moistened with egg white, and pressing firmly to seal the edges a second round is placed on top.
Cover with tea towel and allow to rise for 15 minutes.
Fry in shallow vegetable oil heated to 375 F, which will not completely cover the doughnuts, for 4 minutes on each side or until browned.
After some practise you will manage to ensure an authentic white ribbon running around the middle of the krapfen.
Be careful not to put too many krapfen in at one time as they must not overlap.
Remove with slotted spoon and drain on absorbent paper. Sprinkle with confectioners sugar, or cover with a colored, flavored or white sugar cookie glaze, melted chocolate, shredded coconut, cookie sprinkles.
If making unfilled doughnuts the dough can be rolled out to a thickness of 3/4 inches, allowed to rise and then fried.
Serve fresh, as they tend to become stale by the end of the day.
Karneval being
"the silly season"
there is a custom
that a single "krapfen" is filled with mustard, and then served with the more conventionally flavored ones. This is a
joke
played on the unsuspecting person who bites into it.
"Alaaf"
and
"Helau"
Enjoy Your Carnival Jelly Donuts!
For topics in the news

And you can follow German Culture on Facebook
Illustrations courtesy Reit im Winkl Chiemgau, Wikipedia Commons and Baden-Wurttemberg Tourismus
Carnival Funnel Cake is known as 'Strauben' in the German speaking world, and this kid friendly Starter Kit makes producing great Funnel Cakes at home both quick and easy.
The Eyewitness Travel Guide for Germany is absolutely the best travel book available for anyone, who wants to visit the country. Either from the comfort of their armchair or in person. With stunning illustrations and descriptions which not only go into depth and cover everything any traveler would ever need, they are also written in a way that makes them fascinating to read for anyone interested in Germany. My personal favorite.