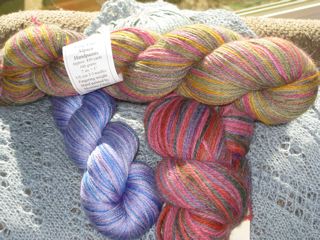 Knitting is not only hand-knitting and if you look at the BellaOnline knitting forum you will see that there are a lot of machine knitters out there and loom knitters. I am a hand knitter for a lot of reasons; one of them being the quiet meditative aspect and the ability to make something useful. Those who have converted to machine knitting have the same enthusiasm and zest for the craft and they are generally knitting for the same reasons, but using a different method.
Loom knitting is performed by using a loom such as a
Knifty Knitter
. The type of project depends on the size of the loom, the space between the prongs on the loom, and the size of yarn used. Looms are often used when someone has arthritis and cannot manipulate knitting needles, or if someone wants to knit but cannot get the hang of knitting with needles.
Machine knitting in my experience, which I admit is limited, is often about knitting faster and completing projects. Although, based on the forum again, it seems machine knitters also face the UFO or unfinished object syndrome that faces hand knitters. There are a variety of machines on the market, such as Brother (discountinued), Bond, Knit Master, Singer, or Silver Reed. Often times a machine knitter will knit up a piece of knitting and then treat it like a fabric, to be cut and sewn into a garment. Many machine knitters have more than one machine and a project on each of them, sound familiar?
One thing about knitting in all of its variations, knitters can be found knitting on one project at a time through completion, knitting on many projects, knitting then stopping then knitting again. Knitters, be they machine, loom or hand knitters, have a love of yarn and lovingly crafted items and will purchase yarn and accessories to keep the knitted items coming. If you are daunted by knitting needles you might want to try a loom or if you love to sew, machine knitting may be the route for you. Whatever you choose I suspect you will enjoy the results, and heck there is nothing to say you can't try them all.