Name:
Sausage Tree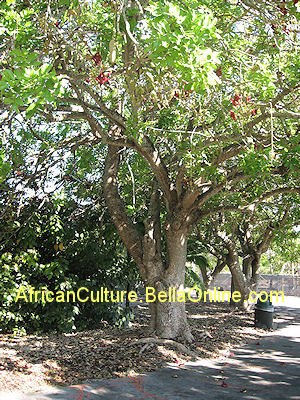 Scientific Name:
Kigelia pinnata
African Names:
Worsboom (Afrikaans), Kigeli-keia (Bantu), Non (Kweni), Makambakamba (Mbuti), Mupongopungo (Rotse), Mbungati (Swahili), Mwegea (Swahili), Mnyegea (Swahili), Mvongonya (Swahili)
Countries found in:
The native range for the sausage tree is much of central and south Africa near riverbanks.
Description:
The sausage tree grows up to 65 feet tall. The bark is gray with a smooth bark on younger trees and a peeling bark on older trees. The tree is evergreen with the exception of long dry period where the sausage tree will drop its leaves.
The blooms on the tree are blood red and nocturnal. The flowers open up at night and fall off the tree by noontime.
The tree bears sausage-like fruit that can grow as long as two feet and weight up to fifteen pounds.
Habitat:
The sausage tree prefers well drained and slightly alkaline soil.
Light:
Sausage trees prefer full sunlight.
Moisture:
The trees like a moderate amount of moisture, but are fairly drought resistant.
Hardiness:
The sausage tree is somewhat subtropical, can stand some frost and temperatures as low as 28° fahrenheit.
Propagation:
The sausage tree is propagated through seeds that was dispersed by animals like hippos, baboons, bushpigs, elephants, giraffes, monkeys, parrots and porcupines that eat the sausage-like fruit. The seeds are dispersed in their dung.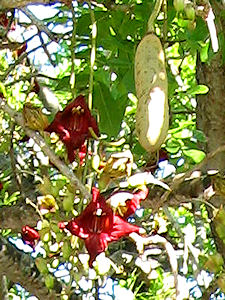 Uses:
Considered a medicine tree in African tradition medicine, the sausage-like fruits are believed to cure for a wide range of illnesses from rheumatism, snakebites, evil spirits, skin problems, intestinal worms, syphilis, and even tornadoes.
The fresh fruit is poisonous to humans, but can be eaten if roasted or fermented. The fruit is used to make a beer type alcoholic beverage.
The sausage tree is planted for ornamental use. The placement of the tree needs to be chosen carefully since the dropping fruit can seriously injure people and damage things like cars.
There are some steriod chemicals found in the tree that are now being used commercially in shampoos and face creams.
Interesting Facts:
In the Ndebele tribe, if a family member disappears or dies in another country a sausage tree fruit is buried in that family member's place.
Sausage tree fruits are fire-proof.
The fruit are used to make bowls, cups, dolls, etc just like a gourd would be used.
Sausage trees are shade trees and are a good tree to sit under during a hot afternoon to cool off.