Name:
Abyssinian Ground Hornbill (Also known as Northern Ground Hornbill)
Scientific Name:
Bucorvus abyssinicus
African Names:
Entyazo (Ciga), Buurtuu (Hausa), Kholwane (Zulu)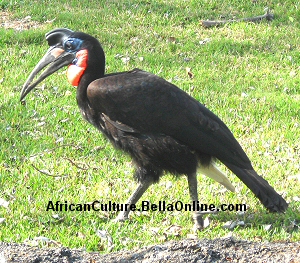 Height:
Up to 3 feet with a wingspan up to 6 feet.
Average Adult Weight:
Abyssinian hornbill are roughly 6.5 pounds.
Life Span:
They can live 35 to 40 years in captivity.
Description:
long bare legs for walking. The male has a red throat pouch and the female has a blue throat pouch. Modified feathers form long eyelashes, which protect their eyes from dust
Habitat:
Steppes, savannas and woodlands north of the equator.
Countries found in:
Benin, Burkina Faso, Cameroon, Central African Republic, Chad, Democratic Republic of Congo, Equatorial Guinea, Eritrea, Ethiopia, Gambia, Ghana, Guinea, Guinea-Bissau, Ivory Coast, Kenya, Mali, Mauritania, Niger, Nigeria, Senegal, Sierra Leone, Somalia, Sudan, Togo, Uganda,
Babies:
The female lays two eggs at a time. The incubation period is 37 to 41 days. Only the stronger of the two hatchlings survive the nest. Sometimes the first hatchling is sickly and the second chick will thrive after the first one dies. Other times, the first chick is has the advantange and takes all the food brought back to the nest and the second chick dies.
Food:
Abyssinian Ground Hornbill like to eat small vertebrates and invertebrates - tortoises, lizards, spiders, beetles, caterpillars, carrion, some fruits, seeds, and groundnuts.
Conservation Status:
Least Concern
Predators:
Leopards and humans
Interesting Facts:
In South Africa, some tribes use Abyssinian Ground Hornbillfor tribal medicine.
In Sudan, the native hunters tie stuffed hornbill heads to their own heads and crawl through the grass while searching for prey. Seeing this image, the prey probably assumes it is only an Abyssinian ground hornbill and is not suspicious.
In some African villages it is customary to have a resident hornbill; villagers believe the bird brings them good luck.