Flammkuchen
, literally
'Flaming Cake'
, is one of Germany's favorite "Fast Foods". A savory flan or tart enjoyed everywhere from restaurants, cafes, beer gardens and Strausswirtschaften, "Flammkuchen mit Speck" is served "meal-sized" and perhaps on a wooden board, or by the piece as an "on the go" snack from street and market stands.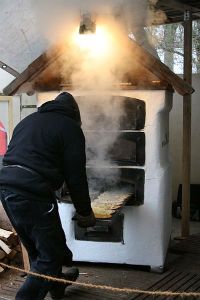 As well as baked in old fashioned ovens during any festive celebrations, such as
Weihnachtmaerkte
, Germany's Christmas markets.
Although it looks a bit like a type of thin pizza this is not how it tastes, and it's one of those traditional German dishes that are well worth trying by anyone visiting the country.
Its origins are in
Alsace
, a region that has been a part of Germany several times over the last centuries but is now one of France's smallest states, and which lies along the west bank of the Upper River Rhine bordering present day Germany and Switzerland. There also it is known as 'Flaming Cake', a 'Tarte Flambe'.
In the seventeenth century Alsace was seized by French kings, Germany reclaimed the territory following the 1870 Franco-Prussian war, France took it again at the end of WWI, 1940 saw it in German hands following their invasion of the country, and it was finally 'liberated' and returned to France by U.S. troops in 1944.
The story behind Flammkuchen, or Flammenkuchen, goes back to the days of wood fired bread ovens, when Alsace bakers used any left over dough as a "trial run" to gauge their temperature before loading them with the loaves for that day. Thinly rolled out dough was placed in the center of an oven and if it was the correct heat this baked in less than two minutes, however if the temperature was too high it would burn or catch fire earning it the name "Flaming Cake".
The crust is a pizza style dough which has been rolled until it is wafer thin to make a crisp texture similar to a cracker, and you can easily use any good quality ready made pizza dough, your own favorite pizza dough recipe or failing that one for a bread dough.
It just must be really thin, and pizza dough 'bubbles' as it cooks which also adds that 'extra something' to the finished baked good. Here is a traditional and authentic German recipe.
Ingredients for the crust
makes 1 lb
400 grams all purpose flour (0.88 pound, 3.20 cups)
1 tsp salt
10 gram fresh yeast (1/4 cube of fresh yeast)
2 Tablespoons oil
2.1/3 to 3 dl warm water (1 to 1.1/4 cups)
Method
Mix flour and salt
Combine yeast with some of the warm water, add to flour with the water and oil and mix thoroughly. Knead to a soft dough.
Cover the dough and leave at room temperature to rise until it has doubled in size.
Cut the dough in two equal portions and roll it on enough flour to two wafer thin rectangle pieces.
Traditionally Flammkuchen is baked as a rectangle and cut into rectangles to serve, but it is of course just as easy to make a round Flammkuchen and serve in slices.
Place the pieces on baking trays (as the dough is thin and fragile it might be easier to roll it directly on floured baking paper and pull with the baking paper onto the baking tray).
Fork the dough
Preheat the oven to 400F.
Now for the interesting part, the topping
A Flammkuchen traditionally comes in two versions,
Sweet
and
Savory
, although the Alsace version with bacon or ham and onion is the most popular.
There are many seasonal varieties, and ingredients can be added at will, wild mushrooms, rocket, cheese, salmon for example, or vegetarian choices such as goats cheese and olives, or feta with chilli peppers.
With Flammkuchen, the only limits are to your imagination, but whatever the topping the 'sauce' that covers the base is basically the same.
In Germany the main ingredients are
Creme fraiche
, which is used in kitchens all over Europe and similar to sour cream but with a higher fat content and less 'sour', and another German favourite
Quark
, a soft, unripened cheese with the texture of sour cream.
(Creme fraiche can be made at home by adding two tablespoons of cultured buttermilk or sour cream to one cup of heavy cream, cover with plastic wrap and allowing it to stand for 12 to 24 hours at room temperature until the bacterial cultures act on the cream.)
However a mixture of the same quantity of ricotta cheese and full fat sour cream can easily be substituted for the Creme fraiche and Quark and works well.
Ingredients for the Basic Sauce
6 oz, 3/4 cup ricotta cheese
6 oz, 3/4 cup full fat sour cream
1 egg yolk
Ground Nutmeg and Salt to taste
Mix thoroughly until smooth.
The classic Alsace Flammkuchen topping
1 tbsp olive oil
2 red (if possible) onions, thinly sliced and separated into rings
1/4 tsp ground black pepper
12 oz smokey bacon, chopped or thin slices of Black Forest type ham torn into smallish pieces
Heat oil and fry onions in skillet until softened and beginning to caramelise, about 7 to10 minutes.
Chop the bacon, or tear the ham
Add black pepper to sauce and stir through
Spread the sauce mixture over the base leaving a half inch rim. Lightly turn up edge of dough.
Place the caramelized onions evenly over sauce. Sprinkle the chopped bacon or ham, which will shrink during the cooking, over the onions.
Season with additional salt and pepper
Bake in the oven for about 10 to 12 minutes or until crust turns golden and the edges of the onions are browning. Good idea to keep an eye on the Flammkuchen because it turns from 'browning' to 'burnt' quickly.
Decorate with a little chopped parsley or chives and serve at once.
Savoury Flammkuchen
is often served on a wooden platter, then rolled up and eaten with the hands, accompanied by a green or cucumber salad,
Federweisser
in the autumn, chilled Rose, red or white wine, apple wine or beer.
A sweet Flammkuchen
can be topped with
sliced sour apples, pears
or
blueberries
sprinkled with a mixture of brown sugar and cinnamon and baked, after which it can be served as it comes out of the oven, or with the addition of a little warmed alcohol such as Calvados or rum, and flambéed.
Traditional Flammenkuchen, Flaming Cake, a simple and delicious regional German dish.
Guten Appetit!
Flammkuchen oven at a Christmas market, Photograph Usien via de.Wikipedia, Flammkuchenteig by Fernand, Traditional Alsace topping on Flammkuchen, Photograph Dennis - courtesy rezeptewiki.org
For topics in the news

And you can follow German Culture on Facebook