The cathedral city of Cologne is one of the oldest cities in Germany, its roots going back almost 2,000 years to 50 AD, as a village belonging to the
Ubii
, (a Germanic tribe), on the right bank of the River Rhine, where the Romans then founded
Kolonia
, Colony.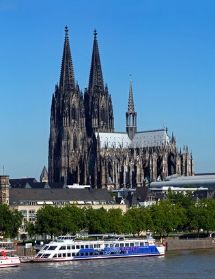 Dominating the city's panorama the Cologne Cathedral's twin towers are as visible today, from nearly everywhere within the city and many points outside, as they were in 1880, when over 600 years after the foundation stone had been laid on August 15, 1248, the cathedral was finally completed.
Archbishop Rainald von Dassel was given relics of the
Three Kings
in 1164 by Holy Roman Emperor Fredrick Barbarossa, who had brought them to Cologne after taking them from a conquered Milan where they had been kept since the fifth century.
After the 'Old Cathedral', which had been built on the site of a 4th century Roman temple, burned down on April 30, 1248, work immediately began on planning a new Cologne Cathedral.
One considered suitably impressive to house the relics and their magnificent gold and jewel encrusted sarcophagus.
Plans were drawn up in the new style of Gothic architecture with the form of a Latin cross, based mainly on the French Gothic cathedral of Amiens, and a building program began that was to continue for several centuries, during which much of what we see as the cathedral today was completed.
Housing the remains of the
Biblical Magi
, which were of great religious significance, the Cathedral of Cologne was one of Europe's most important pilgrimage destinations, nevertheless through lack of both interest and money building work gradually ceased in the early 16th century.
The lower section of the South Tower with bell tower, as well as the long nave and the cross nave, had been completed up to the lower arcades, but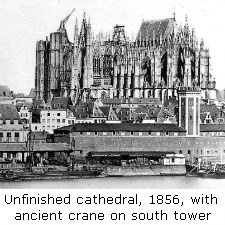 the North Tower was almost nonexistent and for more than 400 years an ancient, and huge, building crane on the incomplete South Tower, believed to date from 1350, was a major scenic landmark and a symbol for Cologne.
However the rich decoration of the cathedral's interior continued until 1794, when French revolutionary troops marched into Cologne and the archbishop together with the cathedral chapter fled to Aachen, after which the building served many purposes, including as a storehouse for grain and fodder, until it was once again consecrated as a Cologne church in 1801.
These seven years of misuse helped bring about a renewed enthusiasm for Cologne's cathedral and its unfinished building work, which gained support from the emerging and influential German Romantic movement with its passion for the Middle Ages.
Continuation and completion of Cologne's Gothic Cathedral now became a matter of urgency and importance, and a foundation stone marking the continuation of building work was laid in 1842 by King Friedrich Wilhelm IV of Prussia, a supporter of
Romanticism
who became the first King of Prussia, and a protestant at that, to ever enter a Roman Catholic building, and his treasury contributed half of the necessary financing.
Using modern building practices, but following the original medieval plans, forms and techniques faithfully, the beautiful Gothic Cathedral with its soaring buttresses and pinnacles was completed in a record time of 38 years, with both of the towers, the North Tower at 157.38 meters is 7 cm (2.3/4 inches) higher than the South Tower, finally finished in 1880.
Its completion was celebrated as a national event on 14 August 1880, 632 years after construction had begun.
The celebration
was attended by the first German Emperor Wilhelm I, Kaiser of a united Germany and King of Prussia, younger brother of Friedrich Wilhelm IV King of Prussia whose influence and financial support had helped towards the continuation of the cathedral's construction.
Cologne Cathedral's interior is spectacular. The stone mass seems to rise weightlessly up to the 43 meter-high canopy styled arches and the narrow main nave leading to the chancel, the space around the altar in the sanctuary, has two side naves with a kaleidoscope of multi-colored light shining through the five glass windows in the northern side nave. The cathedral has the largest existing collection of 14th century windows in Europe.
The full length of the cathedral in Cologne is 145 meters and the cross nave 86 meters, (a meter is about 3.1/3 feet and in comparison a football pitch is around 100 by 70 meters), the total area of the Cathedral measures almost 8,000 square meters with room for more than 20,000 people, and above and behind the high altar, an enormous monolithic slab of black marble, is the
Shrine of the Three Kings
, Dreikoenigsschrein.
A large gilded and decorated triple sarcophagus containing relics of
Caspar, Melchior
and
Balthasar
, the Biblical Magi and city patrons of Cologne, is covered by seven feet of gilded silver and jewels pillaged from Constantinople during the Crusades, and in terms of medieval gold craftsmanship, size and opulence it surpasses all other reliquary in the western world.
It is thought at least 70 bombs, including 14 very large ones, landed on Cologne Cathedral during WWII but although badly damaged it survived, probably because its two towers remained and were used as navigation points for Allied pilots. Then during June 1945 it was used by American troops as a rifle practice range, however by 1956 its reconstruction was complete.
Now over 60 stonemasons, glaziers, roofers and other specialists are at work constantly, maintaining and restoring the cathedral from the every day ravages of weather, the environment and pigeons.
Although there is a cathedral falcon who helps out with the pigeon problem.
It is "die ewige Baustelle", an everlasting construction site, which as there is a saying that the world will end once the Cologne Cathedral has been finished is considered to be "voellig in Ordnung". Absolutely OK.
A beautiful World Cultural Heritage site alongside the Rhine River, the image of centuries old Cologne Cathedral is a symbol from the past, and together with Schloss Neuschwanstein, identified worldwide with the art, culture and life of today's Germany.
A Related Link:
The celebrations in Germany for 'Twelfth Night' on January 5th, and Epiphany,'Three Kings Day', on January 6th, involve many customs that are based on the stories around the Biblical Magi.
Cologne Cathedral Photographer Udo Haake via KoelnTourismus GmbH - Cologne Cathedral in 1856, Photographer Johann Franz Michiels (1823-1887) - Cologne Cathedral Bavarian Window from 19th century, donated by Bavaria's Ludwig I, photographer Raymond Raimond Spekking / CC-BY-SA-3.0 - illustrations via de.Wikimedia
The Eyewitness Travel Guide for Germany is absolutely the best travel book available for anyone, who wants to visit the country. Either from the comfort of their armchair or in person. With stunning illustrations and descriptions it covers everything any traveler would ever need, including a comprehensive piece on all that Cologne can offer a visitor. It is written in a way that makes it fascinating to read for anyone interested in Germany and is my personal favorite.
For topics in the news

And you can follow German Culture on Facebook