Name:
Spotted Hyena, Laughing Hyena, Tiger Wolf
Scientific Name:
Crocuta crocuta
African Names:
Fisi (Swahili)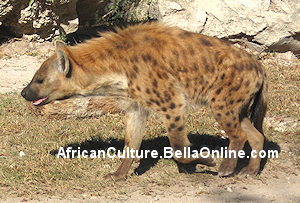 Shoulder Height:
27.5 inches to 36 inches
Average Adult Weight:
Males tend to weigh 89—121 pounds and females weigh 98—141 pounds.
Life Span:
25 years in captivity
Description:
They are dog-like animals with short, spotted brown fur. Female hyenas are larger and stronger than males and therefore are the dominant sex.
Habitat:
Spotted hyena live in savannas, grasslands, woodlands, forest edges, subdeserts, and mountains.
Range:
The spotted hyena is found in sub-saharan Africa (countries south of the Sahara Desert).
Babies:
Gestation is 90 to 110 days. Spotted hyena normally gear two to four hyena cubs. The cubs begin to eat meat from kills brought back to the den around five months of age. They continue to nurse from their mother until 12 to 18 month of age at which time they begin accompaying their mother when she hunts for food.
Food:
The spotted hyena eats all sorts of animals of various types and sizes, carrion, bones, vegetable matter and other animals' droppings. Spotted hyena do not prefer one species over another for food although they do avoid buffalo, giraffe, and zebra.
Group Name:
Clan of hyena. Spotted hyena live in clans of 12 to 100 hyena.
Conservation Status:
Least Concern
Predators:
The only predators of spotted hyenas are humans.
Interesting Facts:
The spotted hyena is the largest and most common of the three hyena species.
The spotted hyena is the most common carnivore in Africa.
Female hyenas are dominant over the males and weigh about three pounds more than the male hyenas.
In ancient African cultures, hyenas were thought to contain special powers, part of the supernatural, and associated with witches.