Far away from the Netherlands-German border just outside Germany's capital Berlin is a little piece of Holland,
Das Hollaendische Viertel
,
The Dutch Quarter
.
Set in the heart of Potsdam and lining cobble stoned streets, are 134 red brick houses ranged in four blocks and built with traditional 18th century Dutch architectural style and methods. Half-timbered, with sweeping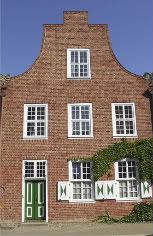 gables, white pointing, tongue and groove joints, and many with 'half' window shutters covering the lower part of the window for privacy while leaving the top half open to the light.
An open air Dutch and German history museum, over 250 years old.
Built between 1732 and 1742, initially during the reign of Frederick Wilhelm I King of Prussia and then that of his son
Frederick the Great, King Frederick II
, they were homes for the Dutch artisans and craftsmen, amongst them cabinet-makers, masons and goldsmiths, who had been invited to bring their skills and settle in the area.
The Dutch of the 18th century were admired as Europe's most modern and industrious nation, and King Frederick Wilhelm wanted to encourage them to move to his province.
Prussia, and Potsdam, had a tolerance towards immigrants that was unusual for the times, and eventually thousands of skilled, qualified craftsmen and workers, and their families, from France, Russia, Poland, Saxony, Palatinate, Wuerttemberg and Switzerland, together with those seeking religious freedom such as the Huguenots, settled in the region.
Much of Potsdam was wetlands so Frederick Wilhelm, consulted the known experts in construction on marshy soil, the Dutch, and 'das Hollaendische Viertel' was designed and built under the supervision of Jan Bouman the Older, a Dutch architect and master builder. He was responsible for many of the Rococo style buildings still to be seen in Potsdam and Berlin.
The house that bears the name 'Jan Bouman' in his memory
is an architectural gem. Typically gabled, with a yard and timber-framed yard buildings, although it had kept more of the original architecture structure than the other houses it has been restored to its original plan, and this includes the beautiful garden.
All floors are open to visitors and it is used as a museum devoted to the entire history of Potsdam's Dutch Quarter, and gives a real sense of how the homes were originally, as well as their condition before restoration began.
For two and a half centuries the houses were occupied constantly, even though the artisans and craft workers did not arrive from the Netherlands in the numbers which had been hoped. French and Prussian artists, as well as soldiers and merchants, moved into the empty homes and lived as neighbors with the Dutch families already in residence.
Frederick William I, known as The Soldier-King, ensured these houses were also used as living quarters for his elite troop of foot soldiers,
The Potsdam Giants
, whose minimum height requirement was 'six Prussian feet', or 6 feet 2 inches. Truly giants for the times.
They might not have been very wide but the Dutch houses were comparatively tall, and each had a small area on the third floor where residents were required to house one of these 'giants'.
WWII left The Dutch Quarter unscathed, however the years spent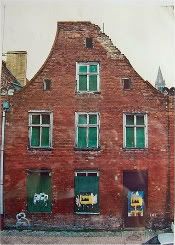 as part of the German Democratic Republic, communist East Germany, saw it fall into disrepair through lack of interest and resources, with many houses left derelict.
The area faced the prospect of being demolished more than once, and it was the Netherlands Royal Family who, soon after the fall of the Berlin Wall and Germany's reunification, provided financial support so restoration of the Das Hollaendischen Viertel could begin.
Now Potsdam's historic Dutch Quarter has regained its unique flair.
A mixture of homes with their courtyards and gardens, small shops, galleries, artisan's workshops, bars, restaurants, cafes, and a laid back ambiance and life style. April brings a popular Dutch tulip festival, there is potters' market in September and of course 'Sinterklaas' always visits the Christmas market during Advent.
For tourists and Germans alike a perfect blend of the past and present, and a small piece of combined Dutch and German history and culture surrounded by Germany's largest UNESCO World Heritage Site, Potsdam's opulent palaces and parks.
Illustrations: Restored House in Dutch Quarter - Potsdam.de, Plan of 18th Century Hollaendischen Viertel - State Office for the Preservation of Historical Monuments and Archeological Museum, Condition of house documented after end of GDR and before restoration - public domain
Germany (Eyewitness Travel Guides) - This has to be the best travel book for Germany out there. I wouldn't go anywhere without my copy while the beautiful illustrations and detailed descriptions also make it ideal for arm chair travelers, or anyone who is just interested in Germany.
For topics in the news

And you can follow German Culture on Facebook