Outside Germany, together with the
'Wurst'
(sausage),
'Schnitzel'
has become one of the most identified 'classics' of German Food. It simply means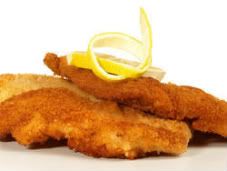 'cutlet' in German and originated as we know it now in Austria, as
Wiener Schnitzel
, 'Cutlet from Vienna', and a thin breaded and fried cutlet made from veal.
This is now the only Schnitzel allowed to use that name, if one is described 'Wiener Art', it means it was prepared like a Wiener Schnitzel, but is not veal.
There are many variations, breaded chicken cutlets, turkey cutlets, pork cutlets for example, and all of them with 'Schnitzel' in their title, but of course as with most recipes
'Schnitzel, the breaded cutlet'
also has a story behind it.
The Roman Empire covered an enormous amount of territory which was hard to control and maintain, so to make it easier to rule in A.D. 395 this was split into two separate empires. The western empire kept the name Rome while the eastern empire was named Byzantium.
It is thought that the Byzantine Empire is the birthplace of the first Schnitzel, created for Kaiser Basileios I, who ruled between 867-886 AD, and liked his meat to be covered with sheets of gold leaf before it was cooked. This soon became a popular meal with other wealthy Byzantines, however as it was expensive eventually an alternative coating was developed, 'yellow gold', lightly toasted bread crumbs.
The idea of coating meat with bread crumbs before cooking spread to neighboring countries, arriving in Austria during the 19th century, and in Vienna the recipe and technique were adapted to Austrian tastes. Wiener Schnitzel, large slices of veal, finger-width thick, pounded until thin, dipped in flour, egg, and bread crumbs, and fried in butter or oil until golden brown, with a crisp coating and soft moist filling, had arrived
It is easy to cook a perfect schnitzel at home, and these days it is more often made from Turkey, Chicken Breast or Pork than Veal. Although they are not traditional breaded fillets of Salmon and vegetarian versions using Tofu, also known as bean curd, are becoming increasingly popular.
GERMAN SCHNITZEL RECIPE
INGREDIENTS:
4 cutlets of pork, chicken, turkey or veal, about 4 to 5 ounces, 125 -150 grams, or a portion of Tofu or filleted salmon
COATING:
All purpose flour
2 eggs
Bread crumbs (These can be seasoned with some freshly ground pepper, dried mustard, garlic powder, chili powder, salt, or finely grated parmesan, but this is just optional)
Salt and pepper
Garlic crushed
Vegetable oil and butter for frying (or the same quantity of clarified butter)
METHOD
Wash the meat in cold water and pat dry on kitchen paper.
First butterfly chicken breasts if they are very thick, cover meat with plastic wrap, or wax paper, and starting in the center and working outwards pound until it is around a 1/4 of an inch thick. Your little piece of meat could easily end up plate sized. Trim the edges of the meat and make a few little 'snips' along them. The wrap protects the meat and the small cuts help the schnitzel keep its shape.
Season the meat with salt and pepper and garlic to taste. A pork cutlet is given extra 'zing' with more garlic, while a breaded chicken
cutlet can be swamped by too much.
Take three shallow bowls or flat plates:
.....pour beaten eggs into one
.....flour into the second
.....bread crumbs into the third
Dip the cutlets into the flour, then into the beaten egg, removing any extra with your fingers, and finally into the bread crumbs, making sure that they cover the entire escallop, and pressing firmly into the coating.
Place the breaded cutlets in a deep skillet with heated oil. 1.1/2 tablespoons oil for each. Schnitzels need to float a little while cooking and depending upon their size, and the size of the pan, it might only be possible to cook two at a time. Keep cooked schnitzels warm in the oven.
It is important to make sure the oil is the right temperature, hot enough that the breaded coating will crisp and brown, but not burn, before the meat in the middle dries out, while frying with the oil at the right temperature also means the bread crumbs will form a crust before they begin to soak up the fat.
It can take three or four minutes for the oil to reach the correct temperature. Bring to temperature on high heat, throw in a small piece of bread, if it sizzles it is hot enough but if it only foams it needs a bit more time.
Lower to medium heat and fry at this temperature for 2 to 3 minutes, turn cutlets, add a rounded tablespoon butter to pan and cook for a further 2 to 3 minutes, until golden brown.
The key to good schnitzel is gauging how long it needs to cook, and to test that the meat is white not pink prick the middle of the cutlet with a sharp knife. It should be moist, not dry, so try not to overcook it.
Remove from pan and drain on paper towel.
Serve your classic Chicken Schnitzel, Turkey Schnitzel, Pork or Veal Schnitzel with a wedge of Fresh Lemon,
a sauce or topping
,some
Spaetzle
, French Fries, Fried or Boiled Potatoes, Rice, authentic German
Warm
and
Cold
Potato Salads are favorite accompaniments with Fresh Green or Mixed Salad, or Sauerkraut, and it is even found just in a Semmel, a bread roll.
Guten Appetit!.....And enjoy your Schnitzel
For topics in the news

And you can follow German Culture on Facebook