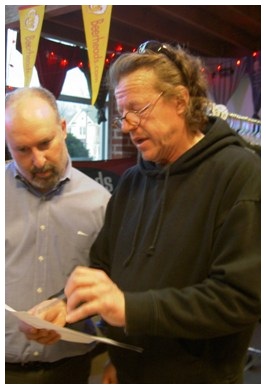 He was a symbol of experience, this Urbain Coutteau, owner of De Struise Brouwers, one of the most innovative craft breweries in the world. He stood in relaxed fashion, acting as if time were standing still, despite the 6 hour time difference and ensuing jet lag. His hair lay in waves around his weather-tanned face, adding softness to a physique that showed obvious signs of manual labor that encompassed the daily routine in his brewery in northwest Belgium, only five minutes from the Abbey of Westvleteren near the French border.

He joked with Jason Harris, owner of Keystone Homebrew Supply in Montgomeryville, PA, and Matt Scheller of the Farmer's Cabinet in Philadelphia, hosts of this interactive brewing seminar at Harris' store, which Coutteau referred to as "Disneyland for Homebrewers." As one of the features of the seminar, Harris engaged Coutteau in brewing Belgian Strong Ale in fast-forward , using ingredients chosen by the master – but with a twist. To speed up the demo process, Harris chose to use extract. "I never heard of extract," said Coutteau. "I'm probably a bigger amateur than you are," he poked with an easy grin on his face. "Nobody ever got killed by a little bit of criticism," he continued.

As I looked around the room of forty homebrewers, I noticed that Coutteau had seemingly hypnotized the crowd. They hung on every word, as if they would be taking the Bar Exam for Brewers in the morning. Six beers were the focus of the evening, although many others were familiar to this admiring assembly.

Coutteau seemed surprised at the luscious and subtle flavors retained in his de Struise beer styles which had traveled "across the big pond." He discussed how his beer is loaded onto a ship, sits in a harbor for a month before it leaves on its journey; then sits for another month in the New York harbor before it is shipped to the states that have distribution rights. Most people never think of the stress that beer endures when imported. "We never filter our beers, never pasteurize, and we bottle condition," he continued. "That makes it important of why it has such good shelf life. Alive beer evolves over time and continues to evolve for at least 4 or 5 years," he explained.


We sampled Pannepot, a four-year-old Belgian Dark Strong Ale that was styled with the assertiveness of an export; yet balanced. Its body was deep ebony, with legs that were indicative of its 10.0% ABV level. Flavors of figs, raisins, bittersweet chocolate, plums, and fruitcake emerged in complexity as this quadrupel warmed. He explained the principles of using a base recipe and expanding on it, using percentages of ingredients rather than specific weights and measures. In Pannepot, he uses about 1 ½% chocolate malt, roasted at 900 EBC, noting "we do not go over 2 ½-3% because it would be too astringent and tannin."

Although they formerly used herbs and spices in de Struise beers, they have now cultured a specific yeast strain that develops those subtle spice flavors during the process of fermentation. "Less is more," he added. "We used to use a maximum of one pound of spices to give it a subtle spice character." Cardemom, nutmeg, and orange peel were commonly used.

But in 2003, he and his family were on holiday in the south of France. His children picked some plums that were not quite ripe, so they brought them home. A research-oriented friend, intrigued by the possibilities that lived on the fruit skin, isolated a wild Saccharomyces cerevisiae strain from the plum's surface and cultured it. They use that strain in all their beers today.

Coutteau went on to stun even the most experienced in the group of brewers. "We do not control fermentation temperature," he noted. "We do it the old way," he said, explaining that beer becomes more wild in the summer, and less so in the winter as they work with ambient temperatures, quite a different philosophy from commercial breweries in the United States.

But in the field of mastery and creativity, Urbain Coutteau tells a bigger story. More to come…

Cheers!

Photos are (from top): Urbain Coutteau consults with Jason Harris, owner of Keystone Homebrew, on the major points of his homebrewers seminar; Urbain Coutteau (in gray) stands with Jason Harris, owner of Keystone Homebrew, and Harris' colleagues from his two homebrew stores in Montgomeryville and Bethlehem, PA

Begin making beer - create a brew and get started!
Mr Beer 20629 Brewmaster's Select Home Beer-Making Kit


Stay warm while bottling:
Beer Me Navy Beer Pouch Adult Hoodie Hooded Sweatshirt Size: Medium