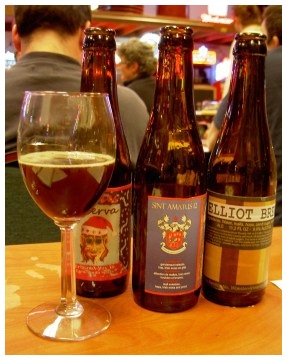 If it were possible to ride the wind, Urbain Coutteau of de Struise Brouwers in Belgium would be there, straddling it like a cowboy, enroute to fields made of gold and spices. It is apparent in the way he brews. The yeast strain commonly used in de Struise beers was born of French plums, cultured by a research enthusiast who happened to be Coutteau's friend. He uses no controls to modify temperature, but works with the weather nature gives him. When profits allow, Coutteau buys more fermentation tanks. Since 2003, he has created a barrel-aging program that has become a significant part of his commercial brewery operations. Admittedly, his experiments with barrel aging have been going on, non-commercially, since 1978.

He doesn't treat his water with chemicals or salts to achieve specific flavors. "The more simple you keep it, the better your brews will be," he advises. "We have no reverse osmosis," he quips, assuring the roomful of homebrewers that he does not believe in adding salts or treating the water he uses. "The day before we brew, we boil it," he says. Then the de Struise brewers allow it to sit for a day before using it in the next beer. The wort is heat infused, without the use of direct fire.

Through all this flexibility Coutteau creates beer with complexity and flavor. He wasn't always a brewer, he tells this group. "I ran an ostrich breeding farm for awhile." Urbain Coutteau had traveled to the United States from his brewery in Oostvleteren, a small town in the northwest region of Belgium, near the border of France. He had arrived in the U.S., weary from travel, to Philadelphia where he would be presenting a beer dinner at the Farmer's Cabinet the following day. Jason Harris, owner of Keystone Homebrew Supply, had persuaded him to teach a seminar for homebrewers at his Montgomeryville store, along with a sampling of a half-dozen of de Struise's finest beers.

"It's like the Disneyland of brewers here," he remarked. The star of the show was the beer, beginning with a 4-year-old Pannepot, dark strong ale. A bit like a Belgian strong, but more like an export, too, this balanced beer was lush with figs, raisins, and bittersweet chocolate, with a fruitcake echo in the foundation. Legs extended up the glass from its body of intense ebony.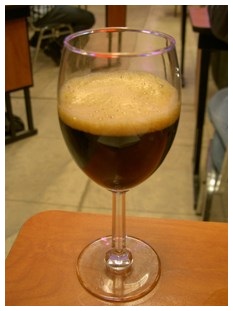 "Tsjeeses Reserva, a Christmas Beer with 10% ABV, has been fermented on stone fruits; then aged for two years in Port barrels, resulting in a coppery-orange, strong golden ale. Coutteau uses peaches, plums, and white grapes, which he sanitizes with alcohol, followed by a rest in the freezer for a week. When the fruit bursts, he puts it in barrels for 3 months, where the fruit floats on the surface. As soon as it begins to settle, he removes the beer and lagers it for 3 months. Aromas of peaches and grapes remain, tingling the tongue with slight tartness and a pleasant hint of stone pits.

Your kettles will take you as far as you want to get," he tells the brewers. He stresses the importance of keeping percentages of ingredients consistently simple, using ¼ of Carapils, ½, ¾, etc. in base recipes. These can be expanded upon with experimental processes. "Black Albert Russian Imperial Stout is a very good style to experiment with," he assures these brewers. He has aged it in rum barrels and wine barrels, and brewed it in different places. "We tried to mess up Black Albert and we never got a bad Black Albert from any of these experiments."

Elliot Brew IPA is a one-year-old India Pale Ale with a Belgian edge, with a hazy amber orange body and creamy, lasting head. Citrusy, earthy, and crisp, this IPA is dry hopped after a multi-step mash. He starts with Pilsner as a primary hop bill, poured into the kettle manually, without the use of any machinery. For hopping, he uses Magnum and Challenger, with lesser amounts of Simcoe, Cascade, and Amarillo. In the summer, they dry hop with hop flowers, but use pellets in the winter.


Sint Amatus, a Belgian Quad with 10.5% alcohol by volume, is brewed, aged, and blended with young beer of the same recipe. With no cool ship at his disposal, Coutteau uses nature to make sours, claiming that every area has the ability to sour beers for a fine Lambeek base. "You can always do the good beer in your kiddie pool overnight in the winter," he advises. "The bad ones are in the summer. If you want to add the lambic yeast, you can buy it. It's more dangerous, because you don't know where it will come out," he cautions.

Sint Amatus Quad had less body than Pannepot, but is rich in flavors of iced spice cake. It was a fine lead-in for Black Damnation Mocha Bomb. Coutteau designed this as a cuvee, a blend. Beginning with Black Albert aged on whole coffee beans for 1-2 weeks, he then aged it in Four Roses barrels. This was blended with Hell & Damnation, aged in Jack Daniels oak barrels. I am oversimplifying, but the result is a beer with aromas of fresh coffee and earth, totally black, as if it sucked all the light out of the world. The head is a creamy tan mousse. Vanilla lingers in the background.

Five Squared, A Belgian Quad X, was the crème de la crème of the presentation. He calls it a re-crystallization, or ice, project. This beer begins as a Belgian Quad X, a cross between a Belgian Dark and a blonde Tripel. The temperature is lowered to the point at which water freezes, then lowered one degree each day in fractional freezing. The result is a beer of 25% ABV, full-bodied and warm in the finish. Fruity flavors of apricot, grapes and light candy sweetness emerge, with honey in the background. It is similar to a chestnut liqueur – a beer to sip slowly. "It's a neverending story," says Coutteau. This special project was crafted as a limited edition of 215 bottles, selling for as much as $800 per bottle.

This method was used on Double Black, from the complex Black Albert as a base, resulting in a 26% ABV. How does the master stimulate his imagination to create this myriad of intense styles? "It generally starts when you're drunk," he laughs. "Someone says, 'You can't do that.' 'Oh, yeah?' The next day, you start doing it."

Cheers!

Beautiful wine glasses for your special beer:
Luigi Bormioli Atelier Cabernet/Merlot Wine Glasses, Set of 4


Curious about making beer? It's a start:
Mr Beer 20629 Brewmaster's Select Home Beer-Making Kit