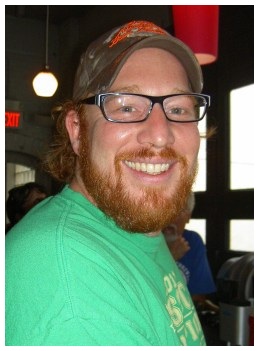 As 2012 Philly Beer Geek, Steve Mashington is looked upon as a mentor to many who covet the title. Smashington, as he is known in the beer world, shares his story on how he got started in beer; then moves on to discuss everything from beer laws to his favorite breweries, beers and goals.

Q. When did you become involved with beer? Did you always like beer?

Smashington: "I feel like beer has been around me my whole life, but it wasn't until college that I took it seriously."

Q. Did you drink the "childhood flavors" of Bud-Miller-Coors at first; then, graduate as an upper-craft drinker?

Smashington: "My first beer was a Coors Light when I was about 14. I moved up to Busch when I was 16, then on to all the other flavorless yellow fizz that is mass produced as I went through high school into my early years in college. When I was a freshman in college I had my first Magic Hat #9.

"One of the first craft beers that stuck out in my mind was Stoudt's Scarlet Lady. When I was a sophomore in college I went to a lot of Phish shows, I think that did a great thing to open my eyes to beer since their parking lot was filled with Sammy Smith, Magic Hat, Sierra Nevada, Newcastle. Those were the beers you could purchase. 2 for $5!!"

Q. What's your biggest gripe about beer places? What would you change?

Smashington: "I think the one biggest gripe that goes beyond just me is the constant attempt to get the one thing that no-one else has. Far too many beer places are always working to one up each other on some random beer that usually tastes like a hot mess anyway. I'm all for competition and trying to out do each other, but it seems that some great beers get lost in the way. Extreme beer is wonderful, I just don't want people to forget about the beauty of pilsners, bitters and porters. They don't all have to have a blood orange soaked in bacon grease to be cool."

Q. Have you ever traveled for beer?

Smashington: "I've been to Germany (Bamberg and Munich), Denver, San Francisco, Chicago, Boston and a few other places I'm forgetting for beer specifically. When I lived in Alaska, I was travelling around and we would try and find cool beer places when ever we could. Same holds true for when I lived in South Korea."

Q. Is your approach to beer more scientific or organoleptic – based in the technical or the overall "feel-good" aspects?

Smashington: "It's a combination of both. Good science will get you the answers you want, but there is an overall yin-yang with beer. It has to be enjoyable to you and a great beer does more than just fall in line with certain flavors and align with proper specs."

Q. What aspect about the beer world would you change, and how?

Smashington: "I'd get rid of the majority of taxes on small breweries producing less than 100,000 barrels and give extra incentives to breweries that are under 10,000 barrels. It's insanely difficult to maintain a small brewery under 10,000 (brewpubs are a little different model) and some of the legislation in this country regarding breweries. Just look at Flying Fish. They can't sell cases of beer or pints. Seriously? How dumb can you make a law?"

Q. Do you brew? How much? For how long have you done it?

Smashington: "No, I'm not a brewer. I've homebrewed a handful of times with a variety of people, spent a bunch of days doing brewdays with a bunch of different brewers. I never got that into homebrewing since I've worked at a brewery since I was 21. I've always had access to great beer for pretty cheap, so there was never much incentive and I've learned so much from all the brewers I've worked with. The last time I brewed was last year on the pilot system at Yards when we made the Grodziski."

Q. Are you certified in beer tasting or as a Cicerone? Have you had any formal education about beer or is your approach purely through self-motivated experience?

Smashington: "I'm certified as a Cicerone beer server or whatever the heck the one is where you spend the $70 to take a test online. I don't have any formal education and it's all through self motivation. I've seen the sample test for the Cicerone and I'm pretty confident I could pass it, but I don't need to spend several hundred dollars to tell people I know a lot about beer. I feel like I have the experience and knowledge to back it up."

Q. Do you maintain a beer cellar? What are you in the process of maturing

Smashington: "I have a beer cellar that fluctuates. It goes up and down depending on who has been to my house. The only things that I still have that I'm holding on to a few cases of Yards Olde Bart, some Cantillon, Supplication and Stone Vertical Epic. But my cellar just got stocked to the gills thanks to Philly Beer Geek!"

Q. Do you collect beer stuff? Beer coasters, neon lights, glasses, bottles, bottle caps, napkins, etc.?

Smashington: "I'm not a big collector of anything. I used to collect baseball cards and comic books as a kid, but as I've gotten older I try to avoid clutter. I've gotten a few cool things from different people that I'm holding on to for when I renovate my basement, but nothing major."

Q. Okay, you knew I'd ask this one, and don't give me any excuses about not having a favorite. If you had to spend eternity with only one beer, which one would it be? And … is that your favorite, or just the most drinkable?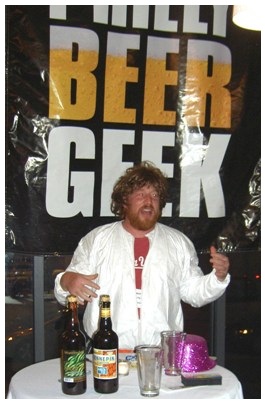 Smashington: "Schneider Aventinus. It's my favorite, dangerously drinkable and I think I told the head brewer that about 5000 times when he was in Philly."

Q. What is your favorite beer style?

Smashington: "I'll go with Porter or Saison."

Q. Favorite brewery?

Smashington: "Sierra Nevada or Troegs. I just never seem to have a beer from them that I don't like."

Q. What's so special about Hulmeville Inn?

Smashington: "It's just a very down to earth place where Jeff has created an amazing culture. It has tons of deep history behind it, the layout of the place is super cool, they have a cool beer garden and you can still smoke in there. To me it's just got everything that I like about a bar."

Q. Now that you've won Philly Beer Geek 2012, where do you go from here?

Smashington: "I'm going to enjoy it for a bit and then start working on my next project."

Q. In what one place would you most like to present beer?

Smashington: "The Great Pyramids of Egypt or the moon."

Q. What was the most memorable beer festival you have ever attended?

Smashington: "This beer festival that my brother and I went to in Ketchikan, Alaska. There were maybe 6 breweries there. It was pretty cool. Just very low key and it was held at the Great Alaskan Lumberjack Show venue, so we had a pretty good time."

Q. Ever brought beer home in a suitcase?

Smashington: "I had to buy an extra suitcase coming back from Italy and Germany."

Q. You took home a pretty big cache of prizes. Didn't I hear you telling your fellow competitors to take what they wanted from your winnings?

Smashington: "Yeah, it was such a large haul that I just felt the best thing to do was share it with those guys. So I retained veto power, but I let them have their pick from what they wanted. I think Jesse scored a magnum of Chimay."

Q. When you suddenly realized all those prizes were yours, what were your thoughts?

Smashington: "Holy cow, how am I going to get this home?" Then, "Wow, I can't wait to share this with all my friends."

Q. I've heard some say: The first Beer Geek was a Steve - the next, a Nate - the next, a Steve – the next, a Natalie – the next a "Steve." Is this Yin and Yang? Karma?

Smashington: "I think it's a bit of a superstitious streak. Now that we have this Steve, Nate, Steve, Nat, Steve run going, if your name is Nate or Natalie you should make sure you enter next year. Your odds are pretty good."

Q. Any closing comments?

Smashington: "I might be going through life in a bucket, but at least I'm enjoying the ride."

Cheers!

Do you have glasses that enhance the flavors in your beer?
Spiegelau Beer Classics Beer Connoisseur Gift Set, Set of 4


Just something little but a great tool:
Nite Ize SBO-03-01 S-Biner Ahhh Carabiner Clip Bottle Opener