Lamps and
diyas
occupy a very important role in Indian Culture. For generations, Indians have used lamps for festivals, religious rituals and lighting homes. These lamps are made using metal or clay and are made in different sizes and shapes. Lamps are considered auspicious items and so gifting lamps is quiet common especially during religious ceremonies or other celebrations. In Hindu culture, it is also customary for devotees to make vows to light lamps for deities in temples.
The most popular Indian festival,
Diwali or Deepavali
means
row of lamps
and is a celebration of light. Also referred to as the
Indian Festival of Lights
, this celebration sees the whole country lighted up not just with decorated
diyas
, but also with fire crackers and lighted festoons.
It is interesting to note that despite the availability of electric lights, LEDs and other modern lighting facilities, traditional oil wick lamps alone are used in India for ritualistic purposes. This is because lighting a lamp in India has a deep significance.
Lamps are considered important and useful to have a source of light in the dark evening hours. Light is also equated to wisdom in Indian culture and the lighting of a lamp is meant to do away with ignorance with wisdom. The lighting of a lamp also signifies getting rid of greed, malice and other undesirable elements from one's life. Due to this reason oil wicked lamps, which slowly burn out till all the oil is consumed are used.
Many superstitions are also associated with lighting lamps. Every Indian household requires the woman of the house to light a traditional lamp, placed in front of the deities at dusk. Once this has been done, the inmates of the home may not sweep or mop. It is equally taboo to clear dustbins or remove garbage once the lamp has been lighted.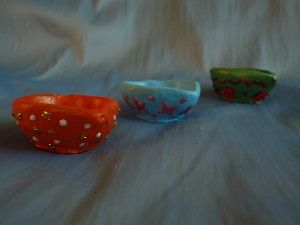 Small
diyas
made either with clay or metal are given away as takeaways on festive gatherings and in celebrations like baby showers, weddings and others. Educational institutions have a lamp lighting ceremony before any celebration or gathering. In this context lamps are considered sacred as they signify wisdom acquired through education that dispels the darkness of ignorance.
In South India, a special festival called
Karthigai Deepam
is celebrated as a tribute to lamp lighting. On this occasion, one of the most important rituals of the day is lighting up huge lamps and using smaller lamps and candles to light up the entire house, including the balcony, walls and gates. Temples and religious establishments are also lighted up with
diays
of different sizes for this festival.
Lighting lamps is one Indian Custom that has not changed and will surely continue to be an important aspect of the Indian way of life!