Diwali is just round the corner and the excitement is immense. You plan, you budget, you buy and tick away each item on that long to do list. Why not take some time off for craft projects? Pick out a few supplies and get ready to make some exclusive Diwali crafts to surprise your family and friends.
Handmade Diwali Cards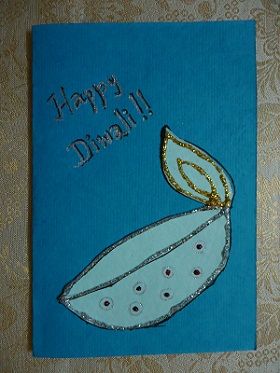 Diwali greetings are a fairly new concept to celebrating the festival of lights. Instead of purchasing ready-made cards from the store, why not make some? Here's a simple and easy to do Diwali card idea.
Things Needed
•Card paper cut into a rectangle of any light/dark color. (Handmade paper if possible)
•Dark/light colored card (Color can contrast the one you choose for the rectangular piece)
•Glue Stick
•Scissors
•Glitter Glue (gold or silver)
•Color pens
Procedure
•Fold the card in two. Draw the outline of a lighted
diya
on the card of a contrasting shade and cut it out.
•Paste the
diya
on to the folded card in any angle you wish.
•Use the glitter glue tubes to make the card attractive.
•Write your special Diwali greeting and stun your loved ones!
Gift Tags
If you plan to give gifts for Diwali, make your own gift tags. Cut out small rectangular, circular or triangular bits of card and decorate using glitter glue, stickers, paint or color pens. Add a small ribbon to one end to get a dainty gift tag ready.
Decorate Diyas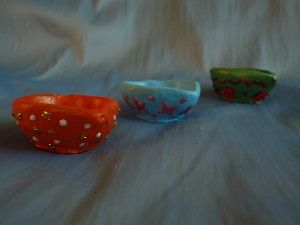 Don't let your
Diwali diyas
stand brown and bare. There are great ways to decorate your
diyas
and make them shine brighter.
First select any color (use fabric paints) or a combination of colors and paint the
diya
. Allow the
diya
to dry. Now your base is ready. Here are few ideas to decorate your painted
diya
.
•Use glitter glue and make design imprints
•Paste small shells in a neat pattern and embellish with glitter
•Paste colored stones or beads and add finishing touches with paint/glitter
•Tiny bits of glass can also make shiny
diya
decorations
Let your imagination guide you in picking out fancy knick knacks to decorate your
diyas
. Remember used buttons and stones that fall out of hair accessories can make great
diya
decoratives.
In all your craft projects use re cycled materials as much as possible and make sure your Diwali celebrations are 'green' and safe!
Happy Diwali!
Here's an iron on Diwali poster from Amazon to boost the festivities.
This book, also from Amazon gives more details on Diwali traditions.
Buy Holidays Around the World: Celebrate Diwali: With Sweets, Lights, and Fireworks from Amazon.com