Germany's Stork Route is a unique 459 km, 286 miles, scenic journey popular with visitors from across the world, and it begins in the
"Biosphere Reserve Lower Saxony Elbe Valley"
. A UNESCO recognized biosphere reserve.
Following along both sides of the Elbe River, it passes through over a hundred picturesque and historic villages and towns in five federal states: Schleswig-Holstein, Mecklenburg-West Pomerania, Brandenburg, Saxonly-Anhalt and Lower-Saxony.
And all of them have sizable populations of 'Stoerche'.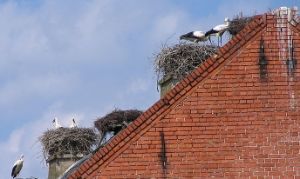 While, as Germany is criss-crossed with different tourist theme routes, you don't only come across
storks
nesting, wading through fields and marshes foraging for food or flying over head, because
der Deutschen Stoerchenstrasse
connects with others including:
Niedersaechsische Spargelstrasse
, "Lower Saxony Asparagus Route",
Deutsche Fachwerkstrasse
, "German Half Timbered House Road" and
Alte Salzstrasse
, the Old Salt Route.
Here are just five of the historic towns to be seen along with nesting storks when following the "Stork in Flight" route signs, beginning with
Lauenburg an der Elbe
.
This is a picturesque old shipping town on the banks of the River Elbe, with narrow streets and half timbered buildings which go back to the 17th century and earlier, including the 13th century Maria-Magdalenen Church. While what remains of Lauenburg Castle, built in 1181, can still be seen from far away so it must have been an impressive sight during the Middle Ages.
If it possible to call a canal 'lock system' beautiful then this describes Lauenburg's "Palmschleuse". Now on the International Canal Monuments List, it dates from 1398 as part of the medieval Stecknitz-Delvenau-Kanal and was still in use until 1900.
Boizenburg
on the right bank of the Elbe was first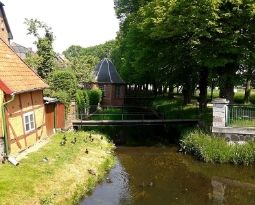 documented in 1171, and as it lay just within what was East Germany, in an area known as "The Inner German Border", it was isolated during the Cold War, with its few remaining occupants under constant Stasi observation.
The regime left much of the Elbe Valley region landscape as well as the architecture and infrastructure in the old city of Boizenburg unchanged, and now its forests are amongst the most successful habitats for storks, while the
Old Town
is filled with mainly baroque half-timbered buildings surrounded by the original moat and connected to the river by a harbor.
Still on the right hand side of the Elbe is
Ruehstaedt
, with its origins in the 13th century and now known as the "European Stork Village",
Europaeisches Storchendorf
.
There only 250 villagers but ideal conditions mean between 30 and 40 White Stork pairs raise their young there each year.
Ruehstaedt, is the center of the protected "River Landscape Elbe-Brandenburg" and headquarters for the Biosphere Reserve, and, like most of the other areas, it is not only possible to learn all about the birds and their conservation on the spot but there is also a live cam of the village storks nesting, which can be seen online until they, and their young, begin the 26 day journey to their winter quarters in the fall.
Also in the Mecklenburg Elbe Valley Nature Park, and part of the UNESCO biosphere reserve, as well as on the 'Lower Saxony Asparagus Route' and the 'Half Timbered House Road', is
Hitzacker
.
On the left side of the Elbe River it is a beautiful small town of half-timbered buildings, which come complete with notices giving their various histories, as well as the "Hitzacker Archaeological Center".
This is an archaeological open air museum covering the region's Bronze Age settlements while also holding hands-on
'how-to'
courses for everything from ancient baking traditions to bronze casting.
Hitzacker is compact so it's easy, and quick, to walk around the old town as well as along the riverside and climb the local hill, the Weinberg, a vantage point which gives a great view of the entire town, the River Elbe and area's stork nesting and foraging grounds.
And now
Lueneburg
, a tourist attraction and gem of a town, which still has many of the buildings from its medieval heyday as a beneficiary of the valuable salt industry. Which included heavy demand for its salt to preserve the herring caught along the neighboring north sea coast, in the Baltic and North Seas.
The city was a major part of the Old Salt Route, Alte Salzstrasse, a medieval trade route used for transporting staples, including that salt which was also known as "white gold", while the Michaeliskirche, St. Michael's church, is where Johann Sebastian Bach went to school between 1700 and 1702, during which he became an organ virtuoso.
Although Neanderthal and Bronze artifacts have been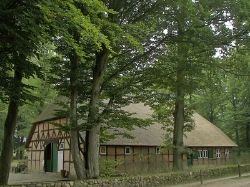 found the city was first officially recorded in 956 AD, and none of its historical buildings were damaged during WWII but all have been gradually restored to their original condition.
The Lueneburg Heath, the largest remaining heathland in Northern Germany and named after the town, is a historic cultural landscape and mostly a nature reserve, and there it is not only possible to see white storks and ancient farm houses, but also the more rarely found black storks, because this is somewhere where they also feel at home.
The German Stork Route
, der Deutschen Storchenstrasse, a wonderful journey through history and nature.
Images: Five Stork's Nests on a Ruehstaedt Roof, photographer Matthias Trautsch - Boizenburg and its Historic Moat, photographer Pardin - "Dat ole Huus", Wilsede, Lueneburg Heath, photographer Nikanos.....all via de.Wikipedia
For topics in the news

And you can follow German Culture on Facebook
DK Eyewitness Travel Guide: Germany - is still the very best book out there, for anyone thinking of visiting Germany, either in person or from the comfort of their sofa. The information and illustrations are unbeatable.