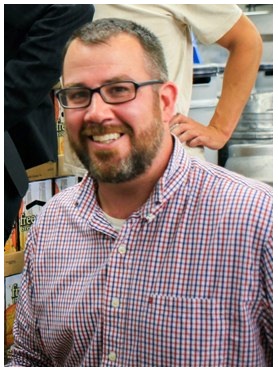 One never knows where inspiration might be found. Sometimes it arises from the depths of exhaustion. After an event in Philadelphia, Erin Wallace, Owner of Devil's Den, Old Eagle Tavern, and Barren Hill Tavern & Brewpub sat down with David Wood, Brewer at Free Will Brewing Company, to unwind for an hour. Like all of us, their conversation segued from one subject to another as they spoke of their work, ambitions, and the events of the week.

What emerged were the beginnings of a project that would promote breast cancer awareness and provide services for local women who were challenged with the disease. From this simple conversation, they pulled together a dynamic team of knowledgeable beer specialists, and the results were astounding. Saison de Rose, a "Season of Pink" beer, crafted by Free Will Brewing Company, came on the scene- just in time for October, 2013.

We're all curious about what makes people tick … how they think, what their background might be, and why they do what they do. Here's the story of David Wood:

Q. Tell us a little about yourself. What do you do, and what is your role in the world of beer?

A. My name is Dave Wood. I was born and raised in Northeast Philly. I have been a craft beer nut since my first sip of Victory Hop Devil in the early 2000s. Brewing beer was not a part of my life until my then girlfriend, now wife Nicole, bought me a homebrew kit from Keystone Homebrew Supply in Montgomeryville in 2010. After I brewed my first batch of Nut Brown Ale, I was hooked. I read everything I could about brewing. Extract batches became all-grain batches, and the beers that I produced became more complex, flavorful, interesting … just all around better.

In 2012, I was unemployed and looking to make a career change. My wife was the one who encouraged me to start interning at a brewery. We were both fans of some of the new local beer that was being produced in the area but we were most impressed with the beers being produced by Free Will Brewing Company. I knew John Stemler from meeting him at Keystone Homebrew Supply in Montgomeryville. I had an open invite to stop by the brewery to pitch in and help with anything that needed to be done around the brewhouse. In late November 2012, I finally took John up on his offer and, since that time, I went from cleaning up around the brewhouse to graining-out and cleaning vessels, to brewing full batches of beer.

I am now a Brewer at Free Will Brewing Company. My role with the company is to not only brew beer but also to develop new recipes and assist with the marketing of the business.

As far as my role in the world of beer goes, I make beer that I enjoy and hope that others enjoy it as well.

Q. Weren't you a competitor in the Philly Beer Geek competition, too?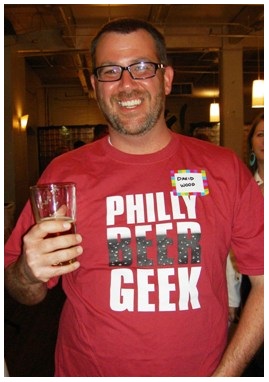 A. I was a Philly Beer Geek Semifinalist in both 2012 and 2013. I was nominated by my Homebrew Club, YTM, which stands for "Yeast to Mouth", to represent the Old Eagle Tavern in Manayunk.

Not making it to the Finals either year does still sting a bit. Maybe being asked to participate as a judge may help ease my pain. Wink-Wink!

Q. The story goes that you and Erin Wallace came up with the idea to brew a collaborative-benefit beer for Breast Cancer Awareness, targeted for release in October, 2013. Can you tell me about how the topic came up?

A. Unfortunately, both Erin and I had a few too many beers that night to be able to recant all of what was discussed at the Devil's Den. The two things that I remember from our conversation were: One, we wanted to raise money for the Rena Rowan Breast Cancer Center; and two, she and I thought of a short list of women that we wanted to collaborate with: Carolyn Smagalski, Tara Nurin, and Marnie Old - Three women that are well respected in the Philadelphia Beer Community. Erin and I knew that if we could get all three women on-board, we could make this project something special.

Q. What were your goals in making this beer?

A. My goal was simple. I wanted to make a beer that is both approachable for an average beer drinker, and also interesting enough for hardcore craft beer enthusiasts. I knew that if we could appeal to a larger audience, we would be able to raise more money for the Rena Rowan Breast Center.

Q. How did you decide on a name for this beer? Was it an easy process?

A. Naming the beer was a fun process. Tons of names were thrown around by everyone involved in the project. One night, while eating dinner with my wife, Nicole, she told me that the French translation for "pink" is "rose." Knowing that we were brewing a Saison, she said "what do you think about Saison de Rose?" I loved it! I posted the name on the group Facebook page and the rest is history.

Q. David, how does it feel to come up with an idea and watch it brought to fruition, especially something that can play a significant role in helping others through a difficult time?

A. It feels great to be a part of this project. I enjoy working with everyone involved. I am especially happy that we are able to help such a worthy charity like the Rena Rowan Breast Center.

I get to do what I love, with great people that I respect and admire, for a worthy cause ... I am truly honored.

Cheers!

Additional donations are encouraged through the Rena Rowan Breast Center website. When making donations by check, write "saison de rose" in the memo field on the check; online, type "saison de rose" in the "In Honor of" box.