Like any civilized society, the Japanese exercise propriety when dining. Some of the etiquette rules stem from religious or superstitious beliefs, but they are good to know to avoid inadvertently offending your dinner host or guest.
Sadly, most restaurant establishments today provide waribashi or disposable chopsticks. Waribashi needs to be broken apart to separate the chopsticks, leaving tiny fibers or wood shards. People rub the chopsticks together to smooth away the shards but this is considered very rude. The shards will fly on the food! If you must smooth your waribashi, do so under the table where no one will see and the shards will fall to the ground, not on the table.
However, never rub your chopsticks together at a dinner party. To do so implies that your host offered you cheap chopsticks. Never rub together non-disposable chopsticks.
Unlike other Asian chopsticks, Japanese chopsticks are tapered to a pointed end. The pointed ends should be placed on a chopstick rest (hashi-oki). Never point the rested chopsticks at someone at the table. But they should rest parallel to you from right (handle end) to left (tips).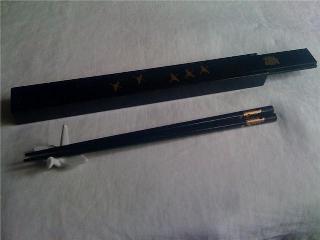 Never should they be placed upright in the center of a bowl of rice or other food. It is too similar to how incense sticks are stuck into a bowl of rice at a funeral. Here are some other things not to do:
1. Never wave around chopsticks or gesture with them. They are for eating, period.
2. Never stab food with them.
3. Never pass food from one pair of chopsticks to another pair of chopsticks. This is how bones are passed between chopsticks during funeral rites.
4. Never cross chopsticks on the table. This symbolizes death.
5. Never move dishes around with chopsticks.
6. Never use your personal chopsticks for taking food from a communal dish. Turn them around and use the wider ends that have not entered your mouth to place food on your plate. Then, turn them around again to eat.
Waribashi worries
You can make your own chopstick rest using the wrapper of waribashi. Just fold it over and over and then bend each end to form glegs.h This will keep your chopsticks off the table. But waribashi, made of wood, is creating an ecological deforestation problem in Japan that now must import wood supplies from other countries to keep up with the demand. The Japanese people alone use over 90,000 tons of waribashi each year, according to autoblog green.com who estimate that translates into 200 pairs of disposable chopsticks per person every year.
Consider carrying your own reusable chopsticks
Environmentally-concerned Japanese food lovers encourage the use of non-disposable, reusable chopsticks. I have several pairs of beautiful, lacquered chopsticks that have their own case. After use, they get wiped with a napkin and replaced into their little, elongated box with a sliding lid. I take them home and wash them, dry them and put them back into my purse for another time. I figure that after my not using waribashi over my lifetime may save a tree or two (maybe three at the rate I eat!) And I never get shards in my food.