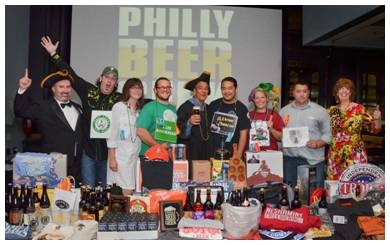 If you are a true Beer Geek, you know how it feels. You find yourself searching the web for beer-quiz trivia, covering the answers, while sucking down a Belgian Dubbel cooled to precisely 49° F. You are startled from a sound sleep by the laughing-voice of Lew Bryson in the darkness, asking for details about Stein Beer. And you know the role Fritz Maytag played in the microbrew revolution. You can even name the members of Philadelphia's "class of '96 boom."

But the most exciting moment comes after all the blood, all the sweat, and all the tears – that moment when it all comes together, when you know you have finally made it … after coaxing your friends into supporting you at showtime, having your wife drill you on trivia when you'd rather be having sex, thinking of creative ways to bribe the judges without it seeming like an out-right bribe! And then it happens: Your name is announced as Philly Beer Geek Champion. "Yes! Yes, yes, yes, yes, yesss!" you scream to yourself.

To most, brewing the Philly Beer Geek Beer with a commercial brewery is one of the best perks of all – even beyond the huge treasure trove of prizes, the Philly Beer Geek plaque, and the glory. Sometimes you even get a bonus.

That's how it played out for Michael Lawrence, Philly Beer Geek 2013, when he seized the opportunity to brew two beers for Philly Beer Geek 2014. Here's the story in his own words:

Beer Fox: Mike, tell us about your experience with the 2014 Philly Beer Geek Beer.

Mike Lawrence: I met with John Stemler from Free Will a month or so ago. He was great and wanted the Beer Geek to be fully involved. As you guys know, my Dad passed away on February 23, 2013, while I was doing the Beer Geek thing, so I wanted this beer to honor him somehow. He owned a bar – Billy's Chili Pot on Frankford Avenue - my entire life and he was my first beer influence.

I grew up the son of a tavern owner. In fact, he gave me my first beer.

BF: Tell me more.

ML: Since his name is WILLIAM and they are FREE WILL, I suggested a beer named "I AM" which would read "FREE WILL I AM ... Like "Free William."

John loved the idea and we agreed that will be the name.

BF: What style of beer is this?

ML: As for style, again, I wanted this beer to honor my late Father whose parents were both born in Ireland. He loved a good session beer, so what better Irish session beer is there than a dry Irish stout? John agreed. So "WILL I AM" will be a dry Irish stout.

BF: Keep going, Mike. You're on a roll.

ML: Here's where it gets creative. Hoping you follow our ideas -

While brain storming this at the ALEiens meeting, where we met, someone mentioned that "WILL I AM" is a trademarked name for the rapper from the Black Eyed Peas. So to take it a step further, we decided to call the beer ... (Drum roll):

Free Will I AM - Black Eyed Stout

We even thought since the Black Eyed Peas have a member named FERGIE. Were gonna have Philly's own FERGIE (Carey) autograph the label for us. And now, Fergie's very Irish dad just passed away on April 9th, so this beer turns out to be for him, too.

I hope you guys dig what we've put together. The pilot is already brewed and approved, so we jumped in and brewed the real deal.

BF: Tell me a little about the recipe.

ML: It's made with 65% pale malt, 25% flaked barley, 5% English Roasted Barley and 5% Midnight Wheat, oh wait – or is it the one with 35% Pilsner malt, 36% Wheat, and 18% torrified wheat? (He shrugs and laughs.) Anyway, the malt gives it some coconut notes. What makes it so special is that my dad's favorite candy was Mounds, so the coconut really fits. The ABV finished off at 4.3%. Oddly enough, my dad was born in 1943. It was meant to be.

BF: It sounds a little like you don't want to give away any secrets. What about the second beer?

ML: Doug Marchakitus still wanted to brew with the Philly Beer Geek even though he is no longer the "Official Beer Geek Brewer."

BF: Ah, yes. Doug is now head brewer at Iron Hill Brewery in North Wales, so he no longer brews at Manayunk where the Philly Beer Geek Semi-Finals are held.

ML: That's right, but I wanted to brew with him. So were gonna brew a second beer … A double IPA brewed with 120 lbs of honey and Citra hops - the one I pulled out blindly to win Beer Geek. Then it's dry-hopped with Cascade.

We named it HOPARAZZI.

BF: That's the best! After your Philly Beer Geek moniker.

The 2014 release of Free Will WILL I AM Black Eyed Stout is scheduled for May 14, 2014, just in time for the 2014 Philly Beer Geek Semi-Finals Competition at Manayunk Restaurant & Brewery in Philadelphia, PA. Hoparazzi should be ready in time for tapping at the Field House on June 6th during the 2014 Philly Beer Geek Finals Championship.

Cheers!