Lent begins as soon as
Karneval
draws to a close, on Ash Wednesday, Aschermittwoch, a time that used to mean keeping to a strict fast for six days of the week.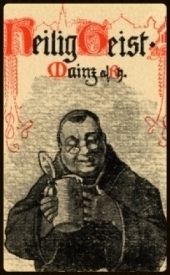 Although more often than not Germany's Monks found delicious ways around it.
Although it is no longer followed closely, many Germans who are not particularly religious will still choose to give up something for Fastenzeit, the forty day fast. It could be watching television, drinking cola, that evening glass of wine, chocolate, fast food or simply putting more of an emphasis on fish instead of meat appearing on the dinner table.
A Lenten fast was meant to be strict, with no eggs, milk or fat allowed and only one meal a day, so
"Good Mood Foods"
were relied upon not only to stave off hunger pangs but also to stay healthy enough to work and lift the spirits.
One of these included
beer
, known as "Liquid Bread" because the grain normally used for baking bread went into brewing beer, and enjoyed by many more than the monks in the monasteries who, often not allowed solid food, were the masterminds behind the brews.
Pretzels
were also inspired by the fast. A bread made from flour, yeast, water and salt with none of the forbidden
ingredients but nevertheless satisfying, and again it seems invented by monks in around 610 AD.
One legend is that the pretzel's shape was designed to resemble the position a monk of those days would take while praying, arms crossed and hands resting on shoulders, while eventually its three holes came to signify the trinity.
Then there are the German form of over sized ravioli,
Maultaschen
, "Maul-taschen", its name thought to come from "Maul", an animal's mouth, and "Tasche", a bag or pocket. Once more the creators of what is now one of the most popular meals in Southern Germany are said to have been monks, those belonging to Maulbronn monastery in Baden-Wuerttemberg.
Combining finely chopped meat with herbs and spinach the monks wrapped dough around the mixture to form little square pasta pockets, "Taschen", by this ensuring that
"God who sees everything"
, would not be able to see the contents and know that the rules of a "meatless" Lent were being broken.
But it wasn't only monks who took advantage of these "Mouth Pockets". Because Christians are by tradition not supposed to eat meat on Fridays, so as soon as they found out about them the citizens of Swabia also used Maultaschen to get around the rules.
This gave the Maultaschen a Schwabian nickname
Herrgottsbescheisserle
, a rough translation of which is
Little Cheaters of the Lord
.
And they are still traditionally eaten on a Friday, as well as every other day of the week.
There are many different recipes for Maultaschen, sweet as well as the traditional savory, and the filling of the squares is far from definitive but more a matter of taste, however they all have one thing in common, a thin dough, which is a type of flour based pasta dough. Buying prepared Wonton dough might not be authentic but it works, and cuts down the total preparation time.
SCHWAEBISCHE MAULTASCHEN
Herrgottsbescheisserle
,
Little Cheaters of the Lord
- A Recipe
Ingredients:
Dough
2 3/4 cups of all-purpose flour
1 pinch salt
5 beaten eggs
Water approx. half an egg shell per egg
Filling
9 ounces fresh spinach or package chopped frozen spinach
10 ounces cooked ground beef, pork and beef mix, or sausage meat,
(or for a vegetarian version very finely chopped vegetables, thick puree of vegetables, sun dried tomatoes, and mushrooms go especially well with the spinach)
1 egg
2 tablespoons chopped parsley
1 tablespoon fresh bread crumbs (this helps hold everything together)
4 very finely chopped scallions including green
salt, freshly ground black pepper, nutmeg, ground juniper, optional finely chopped chili or chili flakes, thyme, allspice, marjoram and/or garlic
1 beaten egg white
5 large red or white onions
2 ounces butter
Method:
Mix the flour, salt, 5 eggs and slowly add water, just a little at a time, working mixture until it forms a dough.
With mixer or by hand, knead well until smooth.
Wrap dough in plastic wrap and leave for one hour in a cool place.
Divide the dough into 6 parts and roll each as thinly as possible on a floured surface, until it is about 1mm or the thickness of an average knife blade, and leave until it has dried out a little.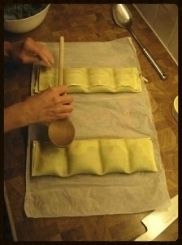 Filling:
Blanche fresh spinach for one minute, or heat frozen spinach, drain off liquid, chop finely and combine with ground beef, beaten egg, chopped parsley, bread crumbs and chopped onion.
Season with salt, pepper, nutmeg and other spices to taste. If necessary add more bread crumbs to absorb moisture.
Place about a tablespoon of filling in the dough at regular intervals, leaving some space between each spoonful to make small pockets about 1.1/2 to 2 inches square, brush spaces with beaten egg white.
Lay a second thin layer of dough on top of the first, and pressing and sealing the edges between each piece of filling.
Cut the dough with pizza cutter or knife to form pockets.
Place the Maultaschen in simmering water and continue to simmer until they float to the surface, about 10 minutes depending on size. Take care not to over cook them as then they might open and lose their contents.
Remove with a slotted spoon and drain.
Meanwhile cut the onions into rings, fry in butter until golden brown, and top the Maultaschen with onion rings when serving.
Cold Maultaschen can also be left whole or cut into strips and sauteed until the surfaces are crisp.
And both versions of the pasta squares are delicious served with a green and/or potato salad, or with a sauce such as
'Zigeunerart'
, which is tomatoes, bell peppers, paprika and a little chili, or
'Jaegerart'
, creamed mushrooms with perhaps a little garlic and chopped onion, or simply served in a clear soup with some finely chopped vegetables.
Alternatively, if hiding the filling "from the Lord" is not necessary, the mixture can be spread evenly on rolled out dough, which is then rolled up like a Swiss or jelly roll, and cut into even slices. Served in the same way but cooking times are shorter.
Guten Appetit!.......And enjoy your Maultaschen
For topics in the news

And you can follow German Culture on Facebook
Fr. Albert Holtz's Pilgrim Road: A Benedictine Journey Through Lent is an entertaining, well written, and perceptive travel guide on two levels. A fresh take on an inner and outward journey through Lent, it could turn into a life changing read.
While From a Monastery Kitchen: The Classic Natural Foods Cookbook, is a wonderful basically vegetarian cookbook, arranged in seasons and with no meat recipes included, although there are a few with fish. It is an updated version of an original 1970's Monastery cookbook, which reflects Brother Victor-Antoine's French heritage with easy, no-nonsense recipes, simple, healthy and tasty.