Soups made with any kind of broth or stock are healthy and satisfying, especially with fresh farm veggies added to them. My Easy Chicken Soup with Swiss chard recipe is adapted from my Chicken and Cheese Tortellini Soup recipe. Only this time, I omitted the tortellini and added green Swiss chard as opposed the red version making it just as comforting as the old time chicken noodle soup, but healthier as there were no carbs (pasta.)
You can substitute any green veggie, such as kale, mustard or collard greens - but I advise cooking them ahead of time to eliminate the gasses associated with some greens. If you add them into your broth from their raw state, you will sometimes get foam on the top of your pot which you will have to scoop off. Therefore, by cooking the greens ahead of time in boiling water with little salt for 10 minutes, you will eliminate the annoyance of this step. It's worth it and can be done a day ahead of time. This soup can easily be turned vegan or vegetarian by eliminating the chicken and using vegetable broth.
The ingredients for this recipe make a large pot of soup - enough for a family of 6 to last for at least 2 days for dinner and to take for lunch to work. I hope you try experimenting with the "greens" thing. They add a ton of flavor to your soups and are downright good for you!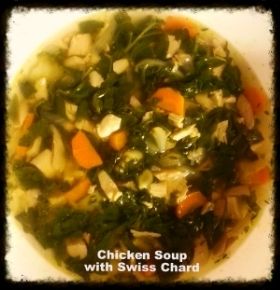 Ingredients
12 cups of prepared chicken or veggie broth, heated
2 tbsp. olive oil
1 small yellow onion, diced
1 large carrot, peeled and diced
3 stalks of celery, diced
1 tsp. ground black pepper
1 tsp. kosher salt
3 cups cooked rotisserie or leftover chicken, shredded or chopped
5 packed cups Swiss chard leaves, roughly chopped, pre-cooked
1 bunch of fresh cilantro, finely chopped
Method
1. Heat the olive oil in a large pot over a medium heat on and add the onion carrot and celery along with the ground black pepper. Stir occasionally until the onions become opaque, approximately 8 minutes.
2. Add the veggies, chicken, pre-cooked Swiss chard and cilantro to the broth. Cover and simmer until the carrots are cooked but not too soft, approximate 10 - 15 minutes. Serve piping hot!