With Halloween and Thanksgiving just around the corner, and Christmas not far behind we can all use some ideas about how to decorate our homes. What better way than to add to your doll collection as well? Here are some ideas for making bear dolls for the up coming holidays.
Any color scheme you wish to use will work well with this cheerful little doll. As you can see in the photo below, I've made two in Autumn colors and one in traditional red and green for Christmas. For those of you in the Southern Hemisphere, try some lovely pastel colors for Spring.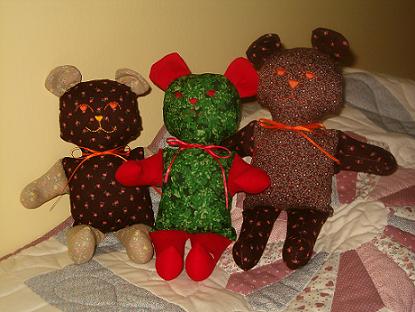 Two fat quarters of cotton calico fabric, in contrasting prints will make at least four dolls, so you don't need much. In fact you can probably make one from scraps left over from another project. The problem with making one is as soon as someone sees it you start getting requests for more!
This would be a great project to work on with a new sewer, put the fabric and pattern in a gift box and promise some time to work on it together and you've got a lovely gift for very little money.
The complete Bear Doll Mini Course is as follows. You will find the pattern and sewing instructions, as well as ideas for dressing them.
1.
Bear Doll Home Page
2.
Bear Doll Pattern
3.
Bear Doll Sewing Instructions
4.
Make a Skirt for Your Bear Doll
Making and Dressing Cloth Dolls
Ebook with patterns and instructions to make 5 cloth dolls as well as chapters on general doll making techniques.The book includes 21 inch Lalena Doll, 21 inch David Doll, Bear Dolls, 9 inch Destiny Doll and 15 inch Annie Doll, all together in one handy book. 53 pages.
Making and Dressing Cloth Dolls
.