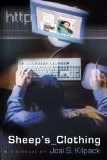 Sheep's Clothing
by Josi S. Kilpack is a novel about a a family with teenage girl who makes friends online who aren't who they say they are and the troubles that result. Jess Thompson is almost sixteen and the eldest of six. She resents having to spend so much time helping with her younger siblings. Her best friend is newly involved in track and making new friends. She She is looking forward to being allowed to date when she turns sixteen, but worries that boys aren't interested. In short, she is very much a normal teenager with insecurities about her friends and friction with her parents. Her mother, Kate, very much wants her children to have the kind of happy childhood she didn't but feels frustrated by how different parenting a teenager is from parenting babies and toddlers. Brad Thompson is a husband and father who is realizing that he has been putting too much effort into providing for his family and not enough into being a part of if. In
Sheep's Clothing
, Jess becomes the target of an internet predator and the book show's how he woos her into trusting him and eventually planning to meet him.
The characters in Sheep's Clothing are particularly well done, especially for a cautionary novel. When they make bad choices, want to stop them but you also have to admit that if you were in their situation, you would likely make the same bad choices. I thought the interplay between the mother and teenage daughter was particularly well done, you see the mother making decisions based on what she truly believes is the most loving thing to do for her daughter based on her memories of being a teenager and you see the daughter taking a completely different interpretation. Both are reasonable, yet both are wrong. The technical details of the software used both by the predator to hide his tracks and to track him down are realistic, which is very rare for a book that deals with computer security.
Sheep's Clothing is published by Deseret Book, a Latter Day Saint (LDS) publishing company whose books are not usually sold in general bookstores. While the Thompson family are LDS, I think that characterizing the book as LDS would be inappropriate as the book in no way promotes the religion. Instead LDS life is used as basis for a number of plot points. I hope that no one will overlook this important book because it appears on first glance to be a religious book. This is an important and enjoyable book that explores an important social problem in a realistic and accessible manner. This is a good book for anyone who is interested in online security from a home or family perspective. I would particularly recommend it for parents and teens. Although it deals with a very sensitive topic, it is not at all graphic and I think even the most conservative parent would be comfortable with their young teens reading this book.
Buy
Sheep's Clothing
at
Amazon.com