Kanten is flavored in many ways but this version is from a Mrs. Roichi Obata who contributed her recipe to an old Japanese Foods cookbook, printed back in 1951, by Niji-no-Kai. I thought the cinnamon lends a nice Christmas flavor so I would share it with you during the holiday season. This original recipe does not mention whether to cook the kanten over low or medium heat so use your best judgment.
Cinnamon-flavored Kanten
2 sticks white (shiro) or red (aka) kanten (agar-agar)
4 cups water
1 cup sugar
1 pinch salt
¼ tsp. gourmet powder (this is ajinomoto or MSG) optional
2 or 3 drop cinnamon extract
few drops of red or green food coloring
Wash kanten and soak in water for a half hour. Bring to a boil and cook until kanten is dissolved. Add sugar, salt, gourmet powder, and continue cooking. When sugar is dissolved, add flavoring and coloring. Remove from heat and strain into a loaf pan. When it hardens, cut into oblong strips or slices. (With double recipe, strain into square 8 x 8-inch or oblong 8-inch x10-inch cake pan.)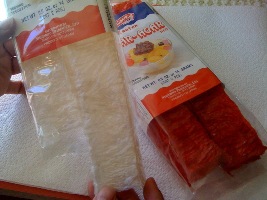 Agar-agar is a gelatinous substance that comes from seaweed. It has many commercial uses in food production because of its excellent gelling qualities. Unlike other gelatin, agar-agar does not require refrigeration in order to set. Almost 80 percent fiber, agar-agar can help regulate the digestive system and aid weight control (satiety).
Please consider sharing your own recipes and stories of Japanese foods here on the BellaOnline.com Japanese Food site. We will share your memories, publish your name and give you a chance to win beautiful Japanese dishes or cookbooks. Keep your traditional or contemporary (fusion) Japanese recipes in the hearts and kitchens of new generations before they are lost forever. Click on the Contact button on the Japanese Food site and submit your stories and recipes today! And please sign up as a forum member to say hi and get to know other Japanese food lovers.