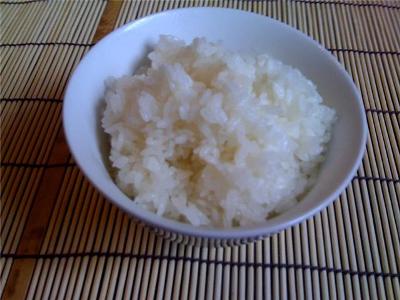 Rice grains vary in dryness, depending on how long they have been stored. Other factors will affect the way one should prepare rice for cooking like method of draining and personal preferences. Some people like their rice with more body while others like it on the softer side (more water, more soaking, longer steaming time).
There are few basic rules. Japanese rice should not be mushy or runny. Individual grains should be soft but have body. And never cook Japanese rice with salt or fat added. Japanese condiments, side dishes and entrees often are highly salted so the pure rice is a good foundation for the rest of the meal.
Basic Method of Cooking Gohan Japanese Rice
Despite the many different ways of cooking rice, here is the basic method which is a good starting point for you to develop your own way of preparing the perfect bowl of rice to your own liking. Remember, do not add salt or oil/butter to the rice during cooking.
Japanese Rice
3 cups of Japanese rice (medium or short grain)
3 cups of water
Measure rice into a pot. Pour in clean water and gently swish the rice and water several times. Be careful not to scrub the grains or they will break or chip. Also, you want to retain as much of the nutrients as possible.
Drain. Repeat until water runs clear. Drain completely. Measure water into pot. Allow to soak for at least 30 minutes, preferably for an hour. Place over medium flame and bring to a boil. (If using an electric rice cooker, turn it on.) Cover with lid and reduce heat to low. Cook for 20 minutes. Turn off heat and allow it to sit and steam for 15-20 minutes. (If using an electric cooker, once the cooker clicks off, do not lift the lid but let it sit and steam for 15-20 minutes.) Fluff rice with a shamoji before serving.
Please read my BellaOnline article *Different Ways of Preparing Gohan Japanese Rice* to see why and how people often develop slightly different methods of cooking their rice.
This method is the basic method of cooking rice today. In ancient Japan, rice was not only boiled but steamed. Rice was washed, rinsed, place on top of woven fabric rice bags in a bamboo steamer and then steamed over a large pot of boiling water. Glutinous rice still is steamed in this manner today before being pounded into mochi (rice cakes).