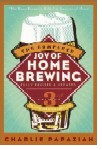 The Complete Joy of Homebrewing, 3rd Edition by Charlie Papazian
This is the brewer's bible of homebrewing books. Papazian tailors the book for the novice as well as the seasoned brewer. A glossary in the back of the book is a welcome resource for defining terms as you read. For those who like to have a methodical understanding of the homebrew process, this book gives you the "why" behind the "how," with details that result in more precise duplication of recipes.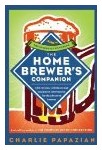 The Homebrewer's Companion
by Charlie Papazian
As a practical and useful guide for homebrewers, Papazian's Homebrewers Companion is chock full of charts and tables, answers to the most popular questions about brewing, and 60 brewing recipes for fun, flavor and experimentation.



Microbrewed Adventures: A Lupulin Filled Journey to the Heart and Flavor of the World's Great Craft Beers
by Charlie Papazian
Charlie Papazian is the Indiana Jones of the Homebrewers Revolution. He turned the macro-beer world on its side and opened the door for the lions of the craft beer movement. All eyes are upon him - man of action, beer explorer, the adventurer, and the leader of innovation. Papazian's book belongs in your beer library.