Ice is a strange medium to work with because it is both brittle, allowing for chiselling and chipping, and malleable (through melting and polishing), which gives the edges a smooth finish. Not to mention the transience of the project, lasting from a few hours to a few days depending on the temperature at which it is displayed.
Ice of the purity required for sculpture can come from frozen rivers or other waterways, where the water has frozen very slowly and at a consistent temperature due to the motion of the water.
As you can imagine, it may be difficult to find exactly the right ice, so much of the ice for the catering industry's sculptures and carvings is manufactured. In order to obtain the sought-after clarity, water containing calcium chloride is brought to freezing point very slowly over several days, while air is bubbled through the water to ensure a consistent temperature. This allows the crystalline structures to develop very evenly with fewer impurities, imperfections, and weaknesses that could destroy a work in progress.
For frozen water, this ice is rather expensive, and much of it melts off with the heat generated by carving.
The function of ice sculptures can range from elaborate displays of castles and figures creating a walk-through ice fantasy world in a refrigerated gallery, to a centrepiece at a wedding banquet which can double as a cooling point for salads and hors d'œuvre. There is even a fully-functioning hotel carved out of ice in Kiruna, Sweden.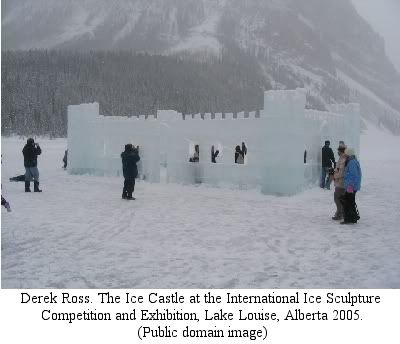 The best way to learn ice sculpture is to begin practicing with foam or resin blocks. Move on to large blocks of ordinary ice before sourcing blocks of clear ice, but be aware that ordinary ice is likely to chip off awkwardly and will be more difficult to work with.
If you're experienced with wood sculpture or other carving skills, you will probably find ice easier to do than you think.
Ice sculptors, particularly those trained in the catering industry, usually work from a drawing. You can either divide the drawing into a grid format to work from, or create a plastic 2D template the size of your required sculpture.
Styrofoam is used to work on to allow the cutting tools to move slightly beyond the ice itself without abruptly hitting a barrier or damaging a floor or table.
The tools ice sculptors use varies greatly depending on the size and type of work. Chain saws are quite common for big projects, and precision chisels specifically designed for ice carving are also important.
Ice is a forgiving medium because some mistakes can be melted out and reshaped quite easily. For this reason, it does help to begin with a larger template, and a much larger block of ice, than you intend for your final result.
---
If you would like to learn ice sculpting, try
Ice Sculpting the Modern Way
by Robert Garlough, Randy Finch, and Derek Maxfield