After you master the digital art software to a certain degree, you begin to pay less attention to the mechanics and start asking yourself how other digital artists achieve that certain style you have admired. Or maybe it's just one element of a design such as the night sky that you have always found illusive. What you have in this book are 48 digital artists sharing with you their thought processes and insight into their creative styles. Accompanying the text are beautiful, full-color images of the artist's work in several stages of production. This first volume of the Digital Art Masters series showcases more 3D than 2D artists at about a three to one ratio. Each 3D artist discusses the decisions made for modeling, texturing, lighting, rendering and post production and the 2D artists discuss composition, tone and color as well as their digital painting techniques. In this book, you will find more than the usual subjects. That's what is wonderful about digital art. It allows the artist to create artwork that reflects our real world and also imaginary worlds of inner and outer space.


| | |
| --- | --- |
| Click to enlarge | As for the real world, the book begins with 3D artist Ronnie Olsthoorm who talks about researching and creating the photo-realistic 3D models of P-51D Mustangs that he then used in Little Friends, his interpretation of a World War II flight over Germany by the Allies. Another artist, d'Ettorre Olivier-Thomas, discusses his take on realistic 3D modeling, texturing and lighting of a more down-to-earth subject, the Mazda 787B. Other 3D subjects include beautifully textured, photo-realistic buildings such as A Day in Valcour by Nicholas Richelet, The Temple by Balazs Kiss and Hagia Sophia by Juan J. Gonzales. You will also enjoy studying several photo-realistic 3D interiors including The Man Without Body by Marcel Baumann, The Corner by Fabricio Micheli and Abandoned Place by Laurent Menabe. Being a fan of classic spooky movies, especially Frankenstein, Dracula and The Wolf Man from Universal Studios, my favorite building was The Haunted House by 2D artist Daniele Montella. He discusses the decisions he made about tone and color to achieve that haunted atmosphere and how he added that old, weathered look to the house and trees. |
But enough about this world. Let's talk about some other worlds presented in the book. My favorite was Freakshow by Romain Cote. He discusses his techniques for modeling, texturing and lighting his 19th century character. Moving from horror to comic characters, you will enjoy Red Beard by Andre Holzmeister. He shares how he achieved that "claymationSM" look for his 3D pirate and parrot characters who are destined to appear in his short movie. He also talks about making the 3D models for the inside of the pirate ship. Another 3D artist, Patrick Beaulieu, discusses his personal style and his Jaco character. His goal is to carry over this same style to other characters while keeping each one unique in his own way. One of the best discussions about giving personality to 3D characters is by David Drbal. In discussing his Ninja character, he shares his thought process for adding personality not only to the character's face but his entire body.

Digital Art Masters I is the first in a series from 3DTotal and can be purchased from their website 3DTotal.com. 3DTotal began as a college project in 1999 and is now one of the most popular digital art community websites and also the home of the Total Textures CD's.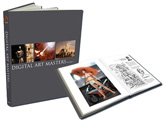 Click to enlarge images

Images used by permission of 3DTotal