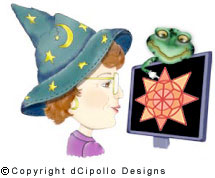 Need Help? See Comment Form Below.


My name is Diane, but most people call me Wizzy the Web WizardTM or just Wizzy for short. I got this nickname because I am always on the computer. I have three passions: digital art, computer programming and computer training. I enjoy creating my own digital art and computer crafts, as well as building websites for individual artists and crafters to promote their artwork.

I met my first computer when I was in graduate school. When I say īcomputerī I donīt mean a laptop. It was 1983. Computers were called īmain framesī and they filled the entire basement of a building on campus. Even though WindowsR was not on the market yet and we only had DOS, it was love at first site. I took every programming course I could. When I couldnīt fit the computer course into my schedule, I bought the book and taught myself. When I wasnīt attached to the computer terminal on campus, I was painting and drawing. I even took third place in the Decorative Artistīs Workbook 1998 Holiday Card Contest. It took a long time to create my six panel greeting card which was a traditional pen and ink/watercolor/acrylics rendition of The Night Before Christmas. But the hard work certainly paid off.

Itīs now . . . 23 years later and I have turned in my pen and ink for pixels. Digital art and computer crafts are growing in popularity. The computer is a new art and craft medium. People are experiencing the fun of creating their own digital artwork and the personal satisfaction of using that artwork in their craft/art projects as well as their web sites.

Digital Art and Design is a very interesting topic and my readers have a variety of needs. For those just starting out, I feature articles, tutorials and resources for the novice. I discuss what is available as well as how to use it. For those looking for more of a challenge, I take digital art a step beyond. I feature articles and tutorials about the creation of original digital art using graphics software such as CorelR Paint Shop ProR, AdobeR PhotoshopR, IllustratorR, InDesignR and NewTek LightWave 3DR. My articles discuss how to create digital art and how to integrate that artwork into web pages, products for sale and projects for fun.

Visit my Website

Visit my other site Animation at BellaOnline

Submit a Comment - Suggestion - Request to this Editor
NOTE: If you want a response, please make sure to include your email address so we can write back. Also, make sure that any anti-spam blockers you have are set up to allow mail from bellaonline.com! Otherwise our response won't be able to get to you.