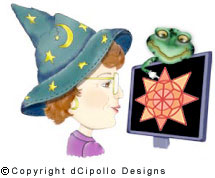 Need Help? See Comment Form Below.


I turned in my traditional pen and ink for digital pixels several years ago when the digital art and animation software arrived on the scene. In 2002, I started my design business, dCipollo Designs LLC. Thanks to BellaOnline and YouTube, I have a venue for teaching others to create and market their art and crafts.


Artist

As a life long crafter, I especially enjoy creating digital art for paper crafts including digital stamps and other printables. Now, with the exploding popularity of personal cutting machines, I have been able to include my love of 3D paper engineering into my design business by designing cut files for the Silhouette cutting machine. I also design social media and other web graphics for fellow artists and crafters.

Since 2007, I have been Art Director for MUSED Literary Review Magazine. As Art Director, my tasks include coordinating the artwork submission evaluation process, designing the layout and producing each issue in both PDF print and HTML online format.

Animator

From 2010-2012 I was the animator for Pamela Gladding Ecards. Pamela had many artists contributing artwork for her ecards and I really enjoyed bringing that artwork to life with Flash animation. I also had my own artwork featured in a few ecards. Sadly, the ecard website has closed its doors.

From 2011 to present I have created graphics, designed and developed two interactive book apps: Dracula's Guest and T'was The Night Before Christmas. Both apps are available in the Apple App Store.

With the explosion of video marketing, I enjoy creating marketing logo intros, book app trailers for authors and product trailers for other crafters to market their products.

Writer

Since 2003, I have been editor for several sections of the BellaOnline.com website, including the Digital Art, HTML, PHP and Animation sections. My articles and tutorials teach others how to create original digital art and interactive animation using HTML5-CSS3, Autodesk SketchBook, Rebelle 2, Gimp, Adobe Photoshop, Illustrator, InDesign, Apple Motion, iBooks Author, iMovie and more.

Specialties:

Art Director MUSED Literary Review, digital/technical artist, animator, technical editor and writer in subject areas including Rebelle 2, SketchBook, Gimp, ScreenFlow, Photoshop, Illustrator, InDesign, Acrobat, HTML5, CSS3, PHP, MySql, Apple iMovie, Motion and iBooks Author.

Visit my Creative Market Shop


Submit a Comment - Suggestion - Request to this Editor
NOTE: If you want a response, please make sure to include your email address so we can write back. Also, make sure that any anti-spam blockers you have are set up to allow mail from bellaonline.com! Otherwise our response won't be able to get to you.