Norse Mythology
"From sunrise to the sundown no paragon had she.
All boundless as her beauty was her strength was peerless too,
And evil plight hung o'er the knight who dared her love to woo.
For he must try three bouts with her; the whirling spear to fling;
To pitch the massive stone; and then to follow with a spring;
And should he beat in every feat his wooing well has sped,
But he who fails must lose his love, and likewise lose his head."
- From the Niflung, Norse Lineage by Nefi, prior to the year 920
From Valhalla, the realm of Odin they come, their armor drenched in blood -- light glistening off their spears. They have flown over the battlefields and collected those warriors who were brought down. To Odin they will return with their chosen dead. Among them is Brynhildr, one of the Norse valkyrie.
Valhalla is the hall of the fallen, where Odin receives the souls of the warriors killed in battle. The souls of women warriors, and those strong and beautiful women whom Odin favored, became Valkyries, who gather the souls of warriors fallen in battle.
In the
Volsunga Saga
, thirteenth century Icelandic epic poetry, Bryhildr is the daughter of Budli, a Swedish king. As one of the valkyries chosen by Odin to be immortal, she had the power to choose who would die in battles. For the battle between two kings, Hjalmgunnar and Agnar, Odin gave command to choose to Bryhildr. She knew Odin preferred Hjalmgunnar to win the battle, yet she chose Agnar as the victor.
For this, Odin condemned Bryhildr to the life of a mortal and had her locked up in a castle on the top of Mount Hindarfjall in the Alps. She was to sleep within a ring of fire. If any man could rescue her, she would then be that man's wife.
Along comes the hero, Siguror Sigmundson (Siegfried in some tales),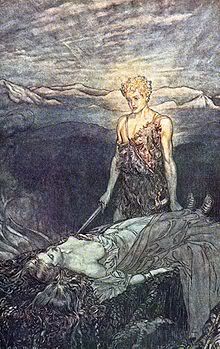 heir to the clan of Volsung and a dragon slayer. He is the only one able to pass through the flames of the ring of fire. He awakens Brynhildr by removing her helmet and cutting off her chainmail armor. Instantly Sigurd falls in love with the beautiful woman. To show his intent, he gives Brynhildr
Andvaranaut
, a magical ring that can produce gold when the one who possesses it wishes.
Siguror then has to leave his betrothed. He promises to return and take her for his bride. His task is to see Gjuki, the King of Burgundy, at once, to seek the King's aid. All would have gone well if not for the sorceress Grimhild, Gjuki's wife.
Grimhild, desired that Siguror marry her daughter Gudrun -- so she prepared a magic potion that made Siguror forget about Brynhildr. Siguror and Gudrun were then married. Hearing of Siguror's encounter with the valkyrie, Grimhild decided to make Brynhildr the wife of her son Gunnar.
Now this is where things start to go very wrong for Siguror and Brynhildr.
Upon hearing about Brynhildr and her beauty, Gunnar wants to court her. However, he could not pass through the ring of fire to reach Brynhildr. Thinking he could get through on his own horse, he tried and failed. Using Siguror's horse, he still failed. Siguror, not remembering that Brynhildr was his own love, shape-shifted to look like Gunnar and entered the ring of fire effortlessly. After reaching Brynhildr and still disguised as Gunnar, the two of them were married and spent three nights together in the castle. Each night, Siguror laid his sword between himself and Brynhildr. This meant that he did not take her virginity before giving her to the real Gunnar. Siguror takes the ring, Andvaranaut, from Brynhildr's finger and later gives it to Gudrun.
When leaving the castle, Brynhildr now thought she had married Gunnar. Siguror and Gudrun were then married. So now Siguror actually has two wives and Gunnar has none.
As young lovely women with handsome knights are want to do, Brynhildr and Gudrun argued over who had the bravest husband. One day Brynhildr, not knowing the truth, bragged that Gudrun's husband, Siguror, was not brave enough to ride through the flames as Gunnar had done. Burning with indignation, Gudrun, in defending her husband's bravery, told Bryhildr that it was actually Siguror who had rode through the flames and rescued her.
Shocked and hurt by the deception, Brynhildr now became enraged and made plans to kill Siguror. Somehow, Siguror now remembered the truth and tried to console Brynhildr with no success. She urged Gunnar to kill him -- Gunnar refused, for he and his brother Hogni, had sworn oaths of brotherhood to Siguror. They coerced their younger brother, Gutthorm, to kill Siguror by giving him a magic potion that enraged him against Siguror.
As Siguror was sleeping, Gutthorm came in and using his sword, struck a fatal blow to the unsuspecting hero. Before Siguror died, he killed Gutthorm by throwing his sword at him.
Now sorry for what she had done, Brynhildr realized she loved Siguror all along. She then willed herself to die and threw herself upon Siguror as he lay upon the burning funeral pyre. The flames took both of them to the realm of Hel, the underworld goddess.
*******
Image Credits:
Sigfried Awakens Brunnhilde, by Arthur Rackham
*******
For your reading pleasure:
,