A male Society Finch sitting on a clutch of Cockatiel eggs makes a cute jigsaw puzzle. As always, you may have to scroll over to get the whole puzzle in view. You may make this puzzle harder (or easier)by changing the shape and number of puzzle pieces.
Click here
if you wish to send this picture as a postcard.
This little finch is the father of most of the rest of my Society Finches - see the article of pictures
Baby Society Finches - Watch Them Grow
I have seen all of my Society finch take turns sitting on - or trying to sit on the Cockatiel eggs in the aviary. Unfortunately, the eggs have never been fertile, but I am not sure what the finches (or the Cockatiels) would have done if any of the eggs had actually hatched.
Here is an e-book Iíve written that is devoted to Zebra and Society Finches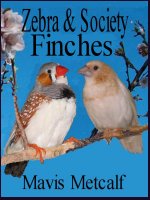 Click on the picture or
here
for more information or to order.
The related links (below)will take you to more jigsaw puzzles or more information on these sweet little birds.
You can also find more information at the birds forum - see the most recent posts below - where you can ask questions and receive prompt replies from some of the experienced birdkeepers who post regularily. I check the forum at least once per day normally and I know there are others who do so as well.