This week's article may have you scratching your head and asking "what's that got to do with doll making?" Well, bear with me, because it does have something to do with my favorite topic.
Adventures in Bookbinding, Hand Crafting Mixed Media Books
, by Jeannine Stein is a fascinating book for artists in many varied media, including doll making.
To get the legal requirements out of the way, I must tell you that I received a free review copy of this book, from the publisher, at my request.
OK, you say, how do you make a doll into a book? Well, you don't, but you make a doll and a book and they are put together.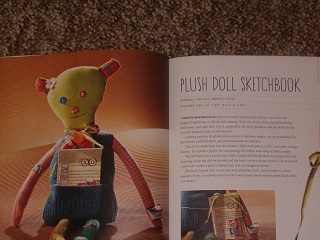 The photo at right is one of three examples in the book of how you put a doll and a book together. Each type of book has three possible ways to work. The first one given includes all instructions. The second is a "shortcut" and the third is a "master" example.
The book begins with an introduction, which explains how to use the book. Then, Chapter One, entitled Getting Started, explains the parts of a book, Tips and Techniques, sewing and embroidery stitches used in book making and a very detailed list of tools you will need and how they are used.
There is a wealth of great color photos and clear drawings to assist you on your book making adventures.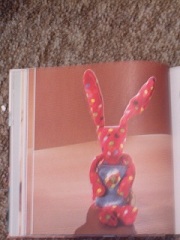 Another great thing about this book is that you are encouraged to use found materials, recycle old or thrift store clothing, and use scraps from your stash. In the photo above, old clothes, recycled sweaters and scraps are used for the doll, as well as repurposed buttons for the face. In the second photo, which is the shortcut, a store bought stuffed bunny is the doll and the book is made to fit it exactly. The master doll example includes a lovely face and outfit which are hand embroidered and the book fits right into the doll.
While this book isn't technically about doll making, it does include many techniques which doll makers frequently use such as quilting, crochet and polymer clay. It's a fun book, full of great inspiration and even the most avid doll maker sometimes needs to take a break and try a different craft...sometimes.
Making and Dressing Cloth Dolls
Ebook with patterns and instructions to make 5 cloth dolls as well as chapters on general doll making techniques.The book includes 21 inch Lalena Doll, 21 inch David Doll, Bear Dolls, 9 inch Destiny Doll and 15 inch Annie Doll, all together in one handy book. 53 pages.
Making and Dressing Cloth Dolls
.