Louis Garwood has sent me another wonderful picture of his beautiful budgies and this makes a fun jigsaw puzzle.
As always, you may have to scroll over to get the whole puzzle on your screen. You can make this puzzle harder (or easier) by clicking on "Shapes" to the left to change the number and shapes of the pieces.
Click here
to send this picture as a postcard.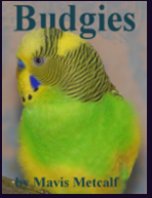 This Budgie e-book was written after many years of keeping and breeding these wonderful little birds.
I have a short video of Sweetie the Budgie and since he is new to my home I am still trying to figure out what he says. Please take a look (he's hard to see, but you can hear him) at
Hi Sweetie
and maybe you can help me figure out his words.
I have put a few of my favourite pictures on items for sale at zazzle:
Please check out the related links to find more Budgies jigsaw puzzles as well as more information about these wonderful little birds.
The birds forum is a great place to ask questions and you are sure to receive prompt replies from some of the experienced birdkeepers there.