When autumn arrives in Germany and the grapes in the wine regions have been harvested, for just a few weeks it is time to enjoy
Federweisser
, the year's young not completely fermented wine,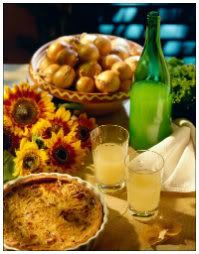 which can best be described as a delicious, and easily drinkable, alcoholic grape lemonade.
A white wine normally made from red grapes, usually Pinot Noir, it contains yeast from the grape
"must"
so has a lot of fizz and as the bottles can not be made airtight, otherwise they would explode. While at the same time, unlike most wines, they also can not be stored sideways because the contents would leak out leaving a puddle and an empty bottle.
With 4 percent alcohol it is more alcoholic than it tastes, so snacks to accompany it are roasted chestnuts, Pfaelzer Saumagen - stuffed belly of pork, but much more frequently the favorite is an Onion Pie or Flan, which in Germany is called
Zwiebelkuchen
. Literally Onion Cake.
Federweisser wine does not keep for long nor does it travel well, and despite refrigerated trucks etc., it is still difficult to find outside Germany, Switzerland and Austria, so if ever in those countries during those crucial few autumn weeks in late August, September and October it is certainly worth trying.
However although Zwiebelkuchen is a favorite accompaniment to a glass or two, or three, of Federweisser in Germany it is also a dish to be enjoyed without the new wine, and wherever you are in the world.
There are many traditional and family Zwiebelkuchen recipes, often baked using yeast dough as a base, but this Onion Pie, or Onion Flan, recipe is one of the easiest, most popular and has a delicious crust but no yeast, or rising time.
It has been 'well tested' over the years, and comes from Baden Wuerttemberg in South West Germany, the Black Forest area.
ZWIEBELKUCHEN, ONION PIE, RECIPE
Ingredients
For the flan casing:
2 3/4 cups All Purpose Flour
1 cup Butter, diced and kept cold
1/2 cup Cold Water
Pinch Salt
Filling:
1/2 lb Bacon diced (as a vegetarian alternative just use sufficient oil to coat the onions)
5 medium Onions, sliced whole and cut across into 'half moons'
Pinch Sugar
1/2 to 1 tsp Caraway seeds (when making it for the first time, might be best to use the smaller quantity)
2 Egg yolks
1 1/2 cups Sour cream
Seasoning:
1/2 tsp Salt, 1/2 tsp Pepper, pinch Nutmeg
Flan Case
Using a large bowl add cold diced butter to flour and mix. Slowly add water, continually mixing, until dough forms into a soft mixture with some small solid pieces of butter remaining. These pieces of butter add to the texture of the finished pastry.
Chill, wrapped, for about an hour.
Lightly oil quiche or pizza pan and line with the pastry, fork the flan case to prevent the pastry rising, and chill for further half an hour.
(This is a yeast free Zwiebelkuchen crust but ready made pizza dough or bread dough from the chill cabinet can be substituted, however then the flan case cooking instructions must be altered to fit).
Filling
Fry diced bacon over medium heat until crisp, remove and drain off remaining fat on kitchen paper.
Stirring occasionally cook onions, with pinch of sugar, in remaining bacon fat over medium heat until light gold, translucent, and caramelized, add the caraway seeds and season with salt and pepper.
Combine the cooked bacon with the onion mixture, place in pastry flan case and bake in a pre-warmed oven at 400 F until the pastry is a lightly golden, about 20 minutes.
Mix egg yolks, sour cream and a pinch of nutmeg together until thoroughly blended and pour mixture over the onions and bacon. Return to oven for 10 to 15 minutes, until egg and sour cream mixture has set.
Take Zwiebelkuchen from the oven and allow to cool.
Sometimes a crushed garlic and chopped parsley is added to the onion mixture as it gently fries, or 4 oz finely grated cheese with the sour cream mixture, but these are just options that add that 'extra something', and are not traditional.
Zwiebelkuchen is usually just sliced into sections and eaten as it is, an accompaniment to Federwieser to minimize the effects of the deceptively alcoholic wine or with any wine either then or at other times of the year.
It can also be served as a meal together with a green or mixed salad.
Treberwurst
is another German
harvest time
specialty from
wine growing areas
using grapes and sausages, which might sound a strange combination but it works.
Treberwurst originated in the vineyards as a meal
eaten by the field workers, and uses the leftovers, the
'must'
, grape seeds and skins, from the wine making, to first marinade, then to wrap and cook the sausages over an open fire, however this is an adapted recipe we can all use.
TREBERWURST RECIPE
Ingredients:
1 lb sausages, with skins
6 oz shallots, finely chopped
1/2 lb large grapes
Large glass white wine
Freshly ground pepper
Pinch Sugar
Halve and de-seed grapes, just cover sausages and grape seeds with water, bring to below boiling point and simmer until sausages are cooked through. 30 to 45 minutes depending on the thickness of the sausages.
Remove sausages and cool in cold water, peel and cut into 1/2 inch thick slices, marinade together with grape halves for at least one hour.
Remove sausage slices from marinade, fry on both sides until crisp, take from pan and keep warm.
Put shallots and sugar into pan until lightly caramelized, add grape halves and heat through until beginning to soften, add wine and reduce by two thirds over low heat.
Season with pepper.
Pour sauce over cooked sausage slices, and serve the Treberwurst
"as is"
with bread as it used to be eaten in the vineyards during harvest. Or with mixed or green salad, a potato dish, perhaps one of the many different
potato salads
for example or the cooked potato and leek combination in the photo.
Guten Appetit!
Federweisser and Zweibelkuchen
courtesy Deutsche Weininstitut,www.deutscheweine.de,
Zwiebelkuchen
by Biezl,
Treberwurst with Leek and Potatoes
by Xproiiia, both courtesy de.Wikipedia
For topics in the news

And you can follow German Culture on Facebook
The Best of my Grandmother's German Cookery - Authentic German easy and delicious basic "family" cuisine, with a bilingual index featuring the "real name" as well as the translation, and each recipe has its own "Grandma's Tip". A gem of a cook book, for anyone with some German heritage or interested in the country's 'Hausgemachte' cuisine, filled with traditional recipes.