Nearly every American from the lower forty-eight has entertained the fantasy of visiting the great land mass to the north, Alaska, at some time during his life. Fleeting images of moose and caribou float through the mind, while curiosity about the cold, dark winters sits in the shadows. Factor in the Great Alaska Beer & Barley Wine Festival, and the beer-aficionado salivates. As a journalist and beer lover, I was fortunate to be a part of this landscape in January, 2007. Follow along with me in this series, a fascinating journey that defines Alaska's beer and the terroir that defines its distinctive tableau ~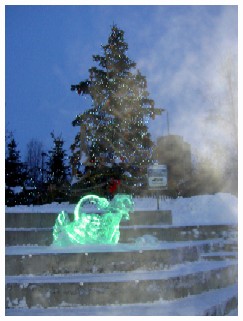 I awaken at 8 a.m. and it is totally dark. This appears to be dreamland in which "pink elephant syndrome" alters my brain - hallucinations of a dark street, where twinkling blue lights dress naked branches, and Greek gods and serpents loom upward, like icy creatures among snow-covered ridges. Dusky fog clears from my brain. A world cloaked in natural wonders convinces me that this is no dream. This is Alaska.

There is a freedom here, one that celebrates life, while it respects the natural habitat that defines the Last Frontier. A constant sun that follows the perimeter of the sky during summer months still hides in the winter darkness at 9 o'clock this morning. Despite the short hours of daylight, the world buzzes with enthusiasm, both in the way the people live and in the way they celebrate beer.

Most people are here by choice, not by birth. This hunger for choice is reflected in the choice to drink crafted beer rather than standard lagers. Style-knowledge is second nature to these beer lovers, who enjoy sophisticated palates that become more cultivated with each passing year. They choose Belgian Strong Ales, Raspberry Framboise, Tripels and Quads – then move into Double IPA's, Imperial Stouts and Barley Wines.


You will not find a brewery with only one barley wine, but a selection of 5 or 6, at the very least. Rich, malty, big in hop bite – but also big in balance and complexity. Clean and highly conditioned – like the Alaskan people.

Steve Shepherd, President of Aurora Productions, Production Director Annie Chavez, and Billy Opinsky of Humpy's Great Alaskan Alehouse and Sub Zero, are instrumental catalysts in exposing the taste buds of local folks to fine craft beer through the annual Great Alaska Beer & Barley Wine Festival held, in 2007, at the Egan Convention Center in Anchorage. Shepherd handles orchestration of the details, while Billy maintains enthusiasm throughout the production and judging aspects of the fest. Says Shepherd, "All Billy wants to do is raise the awareness of good beer drinking among the general public."

Raising awareness of good beer drinking has its rewards. The local beer selection in Anchorage is among the best in the world.

Next: History of the Great Alaska Beer & Barley Wine Festival

Cheers!