Here is an adorable baby Budgie in a jigsaw puzzle for you to work.
Thanks to Louis Garwood for the sweet picture of his new Budgie. You can make this puzzle harder (or easier) by changing the shape and number of pieces.
click here
to send this picture as a postcard.
click here
to try more jigsaw puzzles.
You can tell this Budgie is very young because he has the lines along the top of his head and they go almost to his cere (at the top of his beak). As he gets a little older, the lines will disappear and his head will be mostly white. The lines will stay on the back of his head.
Although this little guy is not mature and we can't be 100% sure of his sex, the dark colour of his cere indicates that he is most likely a young male.
To learn more about the wonderful little Budgie, you can purchase the inexpensive e-book I have written about these birds. Information I learned from several years of keeping and breeding Budgies can be found on the pages.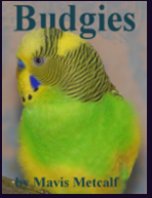 Of course, great books such as the following ones can be found at Amazon.com and Amazon.ca.
You can also find
Guide to Owning a Parakeet
at Barnes & Noble online.