This is not a new release but I finally got to hear it recently even though it was released in 2004 and it's positively captivating. I'm sharing my experience here in hopes you will check it out too. This is probably the best live album I've ever heard.
Frank Marino's guitar is the aural equivalent of heroin. I've never done that narcotic but I can only imagine this is what it's like. From the first few notes, it's like being wrapped in a warm blanket, and whisked away to a place that's safe and comforting. Obviously Marino's skill is something that any fan of rock and roll is aware of. The one thing that they may forget is that he is capable of putting together a pretty deadly song as well. And this record has both, the 14 minute jams as well as memorable actual songs.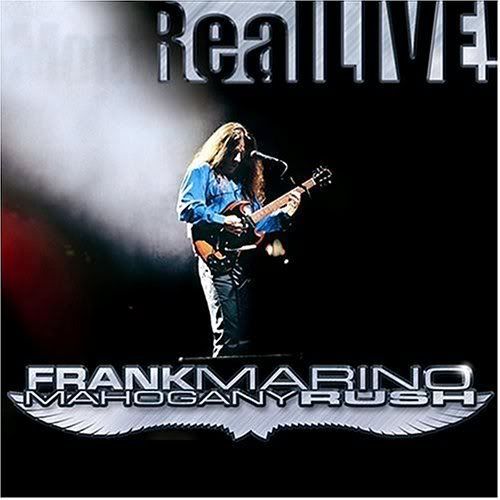 This record was taped at Club Soda in Montreal, Frank's home town and the resulting CD spans almost 2 and a half hours. You cannot pick up any highlights on this gem-studded affair. The "Guitar Prelude to a Hero" which leads into "Stories of a Hero" is pretty powerful as is the beefy "He's Calling". Frank runs the gamut of guitar rock from blues-based rock, taking a side trip into more jazzier material and adding just the right amount of psychedelic infusion.
His band, which includes drummer Josh Trager, bassist Peter Dowse and rhythm guitarist
Mick Layne ride shotgun perfectly, holding down the beat through the familiar territory and intuitively keeping the boat afloat during the stretched out solos.
Disc: 1
1. Voodoo Chile
2. ...Something's Comin' Our Way (Excerpt)
3. He's Calling
4. Red House
5. Guitar Prelude to a Hero
6. ...Stories of a Hero
7. Poppy
8. ...She's Not There
9. ...Crossroads
10. ...She's Not There (Return)
11. ...Poppy (Return)
Disc: 2
1. Let There Be
2. ...Strange Universe
3. ...Ode to Creation
4. ...Strange Universe
5. Rock and Roll Hall of Fame
6. ...Ain't Dead Yet
7. ...Slippin' and Slidin'
8. ...Back to the Hall
9. ...Two 'N' Four (Just Joshin')
10. Avalon
11. ...Rumble 'N' Roll (For Pete's Sake)
12. ...Jazzed a Moment
13. ...Tales of the Unexpected
14. ...Return to Avalon
15. Rattle of Sabres
16. Electric Reflections of War
17. ...Aftermath
18. ...the World Anthem
19. ...A Prayer for Peace
20. Over the Rainbow
21. Try for Freedom