You've come to the right place!

Phil Farrell's Funky Fowl Photo Gallery has been created by The Beer Fox to bring you a little closer to the fun and creativity of this Ambassador of Beer.


Phil Farrell and the Chicken City Ale Raisers Homebrew Club mascot
Traveling the world, Phil Farrell and his rubber chicken have traveled the world, making this fowl the most photographed rubber chicken in the beer industry. Her photo has appeared with the likes of Beer Hunter Michael Jackson, Don Younger, Tom Dalldorf, Greg Koch, Geoff Larson, and a host of others. She has been a steward at the World Beer Cup and the Great American Beer Festival in 2006, and has been featured in Zymurgy, New Brewer, Beer TV, Drinking with Darin and The Atlanta-Journal Constitution. This Chick is an official member of Rogue nation, and has been stuffed with Zeus Hops at Gamache Hop Farm, making her a Hophead's Dreamchick.



Beer Tasting at the Toronado Barley Wine Festival
Accompanying Phil Farrell since 2005, the Rubber Chicken has been a guest beer taster during the Toronado Barley Wine Festival 2007.




Rubber Chicken at BDOTY 2007
Rubber Chicken pictured with BDOTY Founder Lew Cady, Beerwriter and Judge Bobby Bush, BDOTY Champ Diane Catanzaro, Beerwriter, Beer Fox and Judge Carolyn Smagalski, and past BDOTY winner and Judge Gary Steinl at Wynkoop Brewing, Denver, Colorado in February 2007.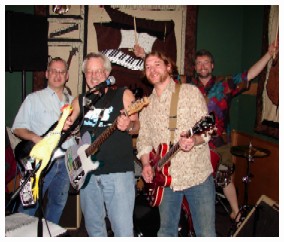 Chicken with the Rolling Boil Blues Band
Pictured with Tom Dalldorf and the Rolling Boil Blues Band in Anchorage, Alaska 2007




Chicks with the Famous Chick
The girls take an ice cream break and get closer to the beer world.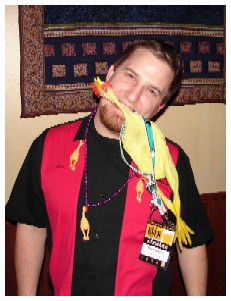 Brewer Ben Love of Pelican Pub Brewery in January 2007 with the Rubber Chicken
Ben Love brewer of Pelican Pub shares the love with the Rubber Chicken mascot. Note: Since this photo was snapped, Ben Love has partnered with Christian Ettinger in the start-up Hopworks Urban Brewery in southeast Portland, Oregon.




Rubber Chicken and Chef Bruce Paton of the Cathedral Hill Hotel, San Francisco
The Rubber Chicken finds herself unthreatened by Chef Bruce Paton of the Cathedral Hill Hotel, and gladly poses with a smile on her face.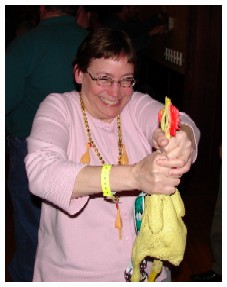 Rubber Chicken in the Grips of Reality
Is this any way to treat a chicken?.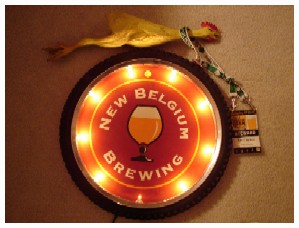 Rubber Chicken at New Belgium Brewing Company, Colorado
Always in the limelight, she is flyin'high at New Belgium Brewing Company.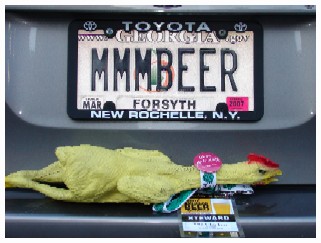 Rubber Chicken at Home in Georgia
Caught here during a brief respite, Rubber Chicken is "under license" in Georgia.

Photos: courtesy Phil Farrell

Cheers!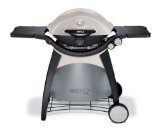 Looks like we need a GRILL, Phil! Grills come in all shapes and sizes, from this standard, easy-to-use gas grill to simple and super-deluxe models. Grilling is fun and there is nothing quite so satisfying as that outdoor flavor.

Weber 586002 Q 320 Portable Outdoor Gas Grill