For many years, PoserR has been one of the most popular 3D software programs for creating and animating almost anything. This is due mainly to the fact that the hard work of creating, posing and animating is done for you by Poser. You will like the many new features and improvements in the Poser 7 upgrade. The workspace is more visually intuitive and easier to use.

Workspace, Exporting and Rendering

Within the improved graphical user interface, there are new Create menus for creating your own characters, props, lights, cameras and more. Poser still has many of your favorite features such as Facial Photo Mapping for creating personalized 3D characters and you can still export 3D objects for use in other programs. You can even export your animations in the Flash .swf format. It also still has one of the best photorealistic rendering engines and several options for non-photorealistic rendering (NPR) of your characters and scenes including cartoon and other illustration styles. The new Sketch Designer rendering engine lets you render your scene to simulate artists' media such as pencil, watercolors, pastels, charcoal and several types of brush strokes. The new OpenGL preview and final rendering is much better.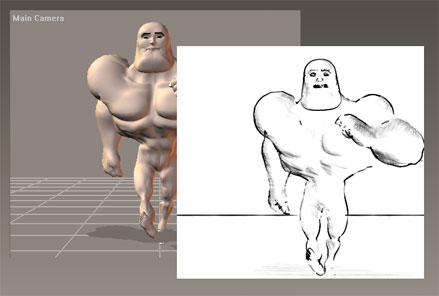 e frontier screen shots used by permission of e frontier America, Inc. and e frontier, Inc. Poser, Shade, Manga Studio, MotionArtist are trademarks or registered trademarks of e frontier America, Inc. and e frontier, Inc.