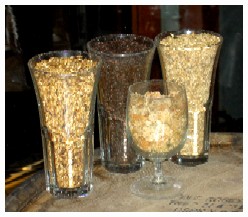 Craft brewers are a tough lot. They always seem to be playing tug-o-war against the wind, as they spread their enthusiasm for brewing to beer-fans that thrive on their ambrosial elixir. Brewers blend a complex assortment of ingredients, juggling temperatures against time, and selecting the proper handling - whether canning or bottling their beer, cellaring in the cask, cave lagering, remuage and dégorgement, or aging in wine or bourbon barrels. They crusade for a greater presence of beer at the dinner table, a place where wine has seized a strong foothold, despite the greater abilities of beer to match the delicate nuances in food. They struggle against the advertising dollars of the mega-brewers who seem to hold the power of Darth Vader and the Imperial Troops.

And now they face another challenge – one driven by nature and economics: Rising costs in nearly every segment of their industry, from raw ingredients to packaging and delivery. Prices for aluminum, glass and fuel have seen steady increases for several years, moving upward like the rising tide as a hurricane approaches. Barley and wheat producers are on the decline. Fields that were once rippling with grain heads are now filled with corn for ethanol production, or feed crops to replace acres lost to corn. The big story, however, is the decline of hops availability to small craft brewers and homebrewers who are not tied-in to the three and five-year contracts that would secure their supply at reasonable rates.

Due to latitudinal sensitivity, the hops plant grows almost exclusively between the 35th and 55th parallel in the Northern and Southern Hemispheres, although only about 5% of the world's production is grown in the Southern Hemisphere. Nearly 60% of the world's supply of hops is supplied from the United States, (where alpha hops are king), and Germany, (where aroma hops have taken a strong foothold). Other significant players are the Czech Republic, the Commonwealth of Independent States (Azerbaijan, Armenia, Belarus, Georgia, Kazakhstan, Kyrgyzstan, Moldova, Russia, Tajikistan, Turkmenistan, Uzbekistan and Ukraine), the United Kingdom, and China. Smaller significant producers are Australia, New Zealand, South Africa, and Japan.

World hop production is typically cyclical, and hits a peak every 7 to 10 years. This can result in a surplus (as we have experienced for the past several years), or shortage, as is the most recent state-of-affairs in 2007. This year's shortage has many sources. Europe endured widespread hailstorms that damaged crops, resulting in poor yields; Australia had the worst drought on record; the USA was affected by fires in the west, and the powdery mildew fungus throughout the Yakima Valley; China had poor yields for two years running; and many U.S. growers, frustrated by the high labor and capital costs of hop production, coupled with the chronically low prices due to the surplus levels of past years, sold their land to real estate developers.

As a result, many craft brewers are re-formulating their recipes by using available hops of different varieties. American brewers may even opt for bittering with sweet gale or heather. Traditional German brewers who subscribe to the parameters set forth in the Reinheitsgebot are hard-pressed to substitute these alternatives as acceptable ingredients.

Will this shortage turn around? Only a die-hard pessimist would continue to predict doom-and-gloom regarding the current hop shortage. The expanding business of hydroponics promises to produce greater yields and higher quality agricultural products on less acreage and in shorter growing periods. Many of the high quality hydroponic products available are not only effective in substrates like coco-peat, NFT, Rockwool, clay pebbles, perlite and vermiculite, but also in soil. Flairform, analytical chemists and horticultural consultants based in Australia, is launching a division in the United States, with products such as SilikaMajic, for increased plant strength, health and weight, and GreenDream, an easy-to-use one-part nutrient, formulated with "slurry" technology to produce superior nutrient balance. GroStorm, an organic additive, produces ultra high root absorption, increasing crop yield and quality, and resistance to environmental stress. Analysis figures from the U.S. Department of Agriculture databases verify the effectiveness of these innovative products in the agricultural industry.

Although the crop for this year is experiencing a downturn, it is highly possible that hop growers may enjoy a productive season in the next cycle, especially with an abundance of innovative nutritional aids that promise to increase yields and quality in the future.

Cheers!