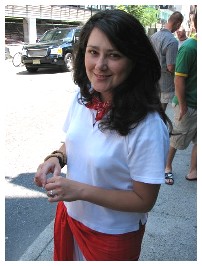 You enter the room, and the smell of malt, hops and food titillate your nose. As your eyes adjust to the softened light of the room, you notice the young lady talking passionately about good beer. In the daylight, she is the Beer Lass of Sly Fox Brewing Company, (with locations in Phoenixville and Royersford, PA), the Director of Sales who conducts promos and pairings, festivals, and quizzo nights. The rest of the time, she declares her "independence from mass produced swill," (i.e., wussy beers like Miller Lite, Budweiser, Natty Lite, and Corona) and is committed to educating other women about the joys that can be found in "better beer."

Suzanne Woods, Founder of the IPA (In Pursuit of Ale) Women's Club of Philadelphia, Pennsylvania, USA has been seeking out "better beer" for at least ten years. Never one to order the cheapest slop on the menu, whether it be in the form of comestibles or libations, she actively sought more palatable tasting experiences. At one point, while working at a Belgian Beer Bar in Philly, Suzanne was impressed by three women – younger than she – who, with supreme confidence, ordered specialty class and import beers throughout the night. In the course of conversation, they exchanged email addresses and agreed to meet at Ludwig's Garten (a notable Philadelphia beer spot that closed its doors in early 2008.)

Suzanne got the idea that a Philadelphia woman's beer club would give them the advantage of frequenting all the best Philadelphia watering holes in search of Belgian, German, and Czech imports, English ales, extreme American IPAs and finely crafted American beers. The Women's IPA Club of Philadelphia was born!


Their first meeting was held Wednesday, June 7, 2006. No, not 06/06/06 - American fundamentalists might eagerly seize such an opportunity to condemn the actions of such wicked women, inspired by Duvel and Lucifer. Suzanne always wanted her meetings on Wednesdays - a deserved, mid-week "comp" day for those ladies in the work force.

The first meeting was attended by Suzanne Woods, Founder; Michelle Woods, Suzanne's loyal sister who attended as a support person (in case no one showed up); Jenny Hobbs; Amy Nichols; Lauren Davis; and teachers, Julie, Jamie, and Chelsea. In less than 2 years, over 300 women have attended IPA events. These women are from all walks of life – personal trainers, auditors, lawyers, writers, stock market brokers, artists, environmentalists, editors, scientists, teachers, graphic designers, accountants, nannies, food servers, salespeople, and bartenders. The common thread is that they are independent thinkers who "would rather choose [their] own beer, thank you," and have discovered the delights of good beer.

For the most part, they meet bi-weekly and have adhered to this schedule, adding four annual mixers for holiday celebration purposes. Typical meetings, however, focus on educating women about beer styles, culture and beer, beer and food pairings, homebrewing, cooking with beer, differences and similarities in hops and malts, assessing beer characteristics, and the BJCP, while enjoying their "tongues-on research" of tasting fresh local beer, imports, extremes, and specialty brews. The best part is that newbies are always welcome, knowledge is readily shared (but not expected), and focus is on expanding the beer experience. Attendance is not required, there are no dues collected, and all women are welcome to come and "hang out," after which they will be eagerly acknowledged as a "member."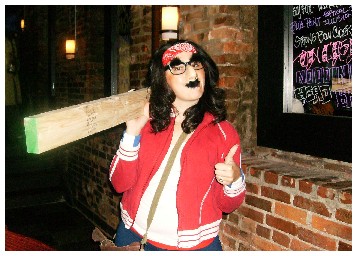 Philly's own Don Russell, who writes as Joe Sixpack for the Philadelphia Daily News, was the first man to be invited to an IPA event on August 16, 2006, at For Pete's Sake in South Philly. This was serious business – a round table discussion about Miller's "Man Rules" ad campaign. Rumor has it that the ladies, focused on Bell's Oberon Ale and Brouwerij Huyghe's Delerium Nocturnum, far exceeded Mr. Russell in the skillful art of holding one's liquor. Go figure…

The women seek out the best beer bars in the city – places that boast at least six interesting beers (not the common, highly advertised macros that suck your pocket dry, but return little in the way of interesting taste) on draught or in bottles. In a year and a half, In Pursuit of Ale has only been to the same beer bar twice – Standard Tap and The South Philadelphia Taproom - the latter which recently served-up a 3-course set of pairings to the club, including a chef's selection of gourmet frog legs and duck tacos to pair with specialty beers.

In her "other" world, Beer Lass Suzanne Woods represents Sly Fox in spreading their brand name throughout Pennsylvania, New York and New Jersey. She is the "festival gal," and works on sponsorships for art galleries, music festivals, and other worthy causes. One of the most impressive groups that approached her was "Clowns Without Borders," a group who traveled to New Orleans during the Hurricane Katrina tragedy to bring sunshine and cheer to kids, uprooted by a bleak set of circumstances.

Woods says the Sly Fox attitude of donating to the community was inspired by Yards Brewing, whose generosity was endless, making them the most beloved "neighborhood beer" of Philadelphia. Nice footsteps to follow in…

Suzanne and the IPA Club of Philadelphia have been written up in Philadelphia Weekly, beeradvocate.com, and Joe Sixpack's Daily News feature. Ms. Woods has also appeared on Sirius Satellite Beer Radio and Ed Hitzel's radio show from Somers Point, NJ. For more information about the In Pursuit of Ale Club in Philadelphia, meeting times, or membership, go to Suzanne Wood's MySpace page at:
http://www.myspace.com/ipabeerclub

Photos (courtesy of Suzanne Woods): The many faces of Suzanne Woods, including "Hacksaw Marx"

Cheers!

10mm Beer Mug belly button ring Swarovski Chrystal
- attract the attanetion of the beer-loving men in your life ... or just show your love of beer

Mikasa Brewmaster's Varietal Glasses, Set of 4
- serve beer with class and style