Imagine you are an American gadabout in the 1840's, traveling from Philadelphia to New York City. In a lifetime, most people never traveled more than 20 miles from their home town, so those who set out on this harrowing journey were considered avid adventurers. The first car, in the true sense of the word, would not be invented until 1885, and air flight was only a twinkle in the imagination of dreamers. The rail system was in the early stages of development, more for mining and commercial use than for passenger transport. These excursionists endured transport in horse-drawn coaches that rattled and bumped over poorly developed roads enroute from one large city to another.

Roads were often littered with uprooted tree roots, rocks and ruts. In the winter, the ride was frigid and often impassable, due to snow and ice. The spring thaw brought congealed mud that would sink a coach up to its bark-covered axle, and autumn was no better. In the summertime, ramblers described "clouds of choking dust and vain efforts to defend themselves against hordes of mosquitoes." The roads were so bumpy that passengers could likely be sick for more than an hour from being slammed so severely within the confines of their seats. Roadside inns and hotels were welcome relief, so an early entrepreneur to the area, David Spinner, opened one such haven of restfulness that he named "The Inn" in Spinnerstown, Pennsylvania. By 1853, his son, Edwin, was to take ownership, renaming this roadside rest "The Sign of the Spread Eagle."

Hotels and restaurants are well-known for changing ownership, and this establishment was no different during those early years. It changed hands 15 times before the family of John and Susan Dale purchased it in 1959. This was a volatile risk in the world of business and finance, but their dream was to renew the sophistication and charm of this historic country inn. They named it the Spinnerstown Hotel Restaurant and Bar, and have steadily renewed the spirit that lives within the echoes of time.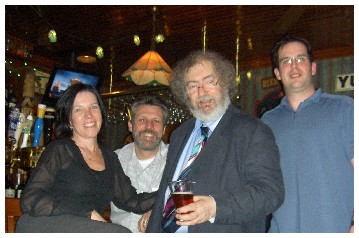 Owners John and Susan Dale are the epitome of the perfect host and hostess. They have developed this vintage gathering house into a Mecca for Beer Enthusiasts and have recently added the accomplished skills of Lee Marren to their restaurant and event operations. Bar manager Hal Bittner features over 200 craft beers from breweries throughout the world – from Belgium to the Czech Republic; Scotland to Germany; Japan, Thailand, Ireland, Brazil, Scotland and beyond. In addition, U.S. microbrews of local and national breadth are available on tap or in bottles. The monthly "Meet the Brewer" event on the first Wednesday of each month is quickly becoming a powerful trump-card as word spreads among the ranks of those who have grown to appreciate fine beer. These events may showcase beer and light fare, or may be more elaborate and sophisticated dinners. Brewmasters may be local stars, or may be stars from other states or countries. John and Susan have attracted such talent as the late Michael Jackson, the world's leading authority on beer and whiskey and author of more than 16 books in 21 languages; Owner and brewer Sam Calagione of Dogfish Head Craft Brewery in Milton Delaware, who is currently co-authoring his third book with Sommelier Marnie Old; and Garrett Oliver, author of The Brewmaster's Table and the adept brewmaster of Brooklyn Brewery, Brooklyn, New York.


On March 5, 2008, Spinnerstown Hotel Restaurant & Bar opens its doors for a very special event, The Great Tastes of Unibroue from Canada. Rick Suarez will represent the talented Brewmaster Jerry Vietz and past Brewmaster Paul Arnott in presenting four courses and five of Unibroue's finest beers imported from Chambly, Quebec.

Maitre Brasseur Paul Arnott had his roots in Scotland, where he attended the International Centre for Brewing & Distilling at Heriot-Watt University, Edinburgh, Scotland. His major was in the microbiology and the dairy segment, and he was initially hired at the Chimay Trappist Brewery in Belgium to work in the cheese factory and as a back-up for the brewery. His saavy skill in the brewery was recognized by the monastic community, and it was not long before he became a permanent addition to the talent of the Chimay brewers, where he worked for 10 years.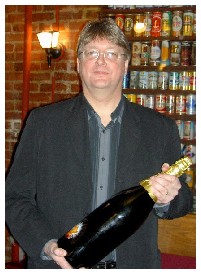 In 2000, he was offered a position with Unibroue in Canada, and he seized the opportunity. He was enthusiastic about the chance to develop his own creations and respected the distinctive portfolio of beers already developed within the organization of Andre Dion, Serge Racine and songwriter –composer Robert Charlebois.

He believes each beer to have its own "je ne sais quoi," that elusive quality that gives it a distinctive personality. He believes that yeast is a key factor in the development of strong character within the beer, while spices add an arabesque edge.

Centre Stage Beers of Unibroue
Éphémère Apple is a Fruit Beer within the seasonal series of beers that changes every four months. It pours like hazy, golden sunlight, topped with an abundant, pillow-soft head. Aromas are of crisp, tart apples, coriander, and spice, with a wheat malt backbone and complex layers of Belgian yeast. On the tongue, a crisp tartness seizes command, boldly fruity, yet elaborated by spices and earth. 5.5% ABV

Blanche de Chambly, a Belgian Style Wit, was the first beer to be distributed from La Brasserie Massawippi, Dion's fledgling brewery of 1991 that was soon to become Unibroue and attract the attention of the world. Blanche de Chambly was inspired by Pierre Celis and his Belgian White Hoegaarden that carried an image of the naked Adam and Eve drinking of the forbidden brew. Shimmering, hazy straw, like threads of spun gold, light the glass, supporting a soft, white head. Aromas of wheat drift through the spicy nose. Coriander, Curacao orange peel, lemon rind, dried apricots, clove and pepper linger in the air, and reflect themselves on the tongue as they interweave with the delicate yeast and wheat profile. In 2004, Blanche de Chambly won the gold Medal and Best in Category in the Canadian Brewing Awards, and a Bronze Medal at the 2004 World Beer Cup. 5.0% ABV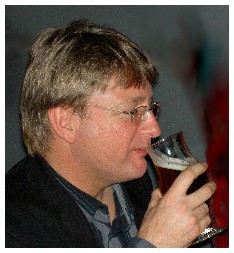 Maudite lays in the glass as a deep tangerine with ruby highlights dancing beneath an ecru head. This Belgian Dark Strong Ale emits the aroma of dark fruits, fresh apples, currants, citrus, flowers, and pepper. The smooth taste of earthiness, beneath the complex layers of fruit and spice, makes one appreciate the "damned" experience that an 8.0% ABV can deliver without the slightest notice. Maudite translates as "the damned".

Chambly Noire shines as a chestnut brown with mahogany edges. Yeast, banana and clove feather the nose with daft swipes. On the palate, caramel apple, figs, and clove dance across the tongue. 6.2% ABV

Trois Pistoles, a Belgian Style Strong Dark Ale, gleams walnut black beneath an off white head that leaves minimal lacing. Dark fruits, dripping with liquid sugar, abound. Flavors are soft, tannic and warm, displaying a 9% ABV. Winner of the Silver Medal in the 2004 Canadian Brewing Awards.

Each of these select beers will be paired with a superb course of gastronomic elegance.

Date: Wednesday, March 5, 2008
Time: 6:30-9:00 p.m.
Tickets: $55 per person (tax/gratuity not included)
For information:
http://www.spinnerstownhotel.com/new/Home
Photos (from top to bottom): Susan Dale, John Dale, Michael Jackson, and Hal Bittner; Rick Suarez of Unibroue; Paul Arnott, Brewmaster at Unibroue; Paul Arnott samples Maudite

Cheers!